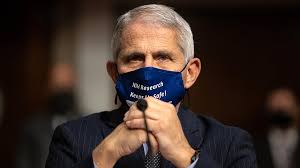 Once again, authoritarian Dr. Anthony Fauci, who wants the slaves to obey his commands and edicts to their own detriment, has said that with regards to the hoax scamdemic, "the worst is yet to come." Fauci and other tyrants have been repeating this like a mantra and trying their best to force it to come true even when the official numbers don't stack up.
Tyrant Fauci: "Now Is The Time To Do What You're Told"
Third Wave Panic Begins: MSM Says "It's The Worst One Yet"
Fauci has made similar predictions before, as RT pointed out in a report. Back when the U.S.' cases numbered in the thousands (our of 300 million-plus) back in March, he told Congress that "things will get worse than they are right now." Three months later, he called the pandemic his "worst nightmare," and warned that "it isn't over yet." In August, he again reminded the public he wasn't "pleased with how things are going," and told them to expect "big spikes" in positive tests.
Dr. Anthony Fauci says he believes the worst is still yet to come in the coronavirus pandemic following the holiday season. "I share the concern of President-elect Biden that as we get into the next few weeks, it might actually get worse." #CNNSOTU https://t.co/c5vBjWbU3I pic.twitter.com/uOdjNHehGx

— CNN Politics (@CNNPolitics) December 27, 2020
WHO Deletes Naturally Acquired Immunity from Its Website
This entire scam is the biggest hoax ever perpetrated on the American public, and people are STILL falling for it! As long as the sheep obey and don the ritualistic shame muzzle upon command, this will continue. They are doing their best to destroy humanity under the guise of a virus.
"We're really at a very critical point," he continued, "if you put more pressure on the system by what might be a post-seasonal surge because of the traveling and the likely congregating of people."
Fauci has already admitted to lying about herd immunity in order to convince the public to take this COVID-19 vaccine.  Fauci assumes that based on polling a large number of people want to line up for this vaccine with "severe side effects" that far outweigh the illness if you even get symptoms of COVID.
Fauci Admits To Lying About Herd Immunity To Convince People To Get The COVID Vaccine
Stay alert.  They will probably not mandate this vaccine, but they also probably will not have to. The public has fallen in line and will police each other by refusing to employ or allow in stores those who reject this vaccine.
Medical Journal: Get The COVID-19 Vaccine, Or Be Punished HARSHLY