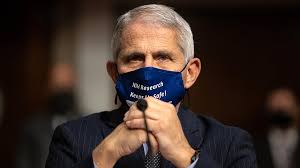 Dr. Anthony Fauci, the medical tyrant, is trying to force people to comply with his authoritarian psychotic rules to stop the alleged rise in cases of COVID-19. Fauci said that "now is the time to do what you're told."
If there was ever a way to get free people to push back, it's to use rhetoric such as that. Fauci can pound sand. And he's upset that he's been accurately labeled a dictator and authoritarian denying the truth. But he added that Americans should listen to and obey the health authorities (like himself), according to a report by Fox News. 
Senator Rand Paul said on Thursday that Fauci is demanding your submission to him.  "He believes that submission and lockdowns are fine, he's not too worried about individual liberties," Paul told Fox News' Martha McCallum before adding that lockdowns and mask mandates are the equivalents to living in an "authoritarian" society. It's perhaps worse, however.  It's a slave state. Where some people issue commands and use force and violence and punishments to get others to comply.
He also said that he believes people are unwilling to listen to what scientists have recommended because of the "divisive" state of the country — a belief backed by a Pew Research report that found Democrats are more likely that Republicans to believe the coronavirus is threat to public health.

"All of a sudden science gets caught in a lot of this divisiveness," he said. –Fox News
Fauci believes that if people wore their ritualistic shame muzzles and listened to social distancing advisories while maintaining sanitary measures like washing or disinfecting their hands, this virus will be able to stay in check and he'd allow the country to remain open.

It's long past time we take matters into our own hands and keep it open ourselves. Fauci cannot close everything down unless we, the people, submit and allow it to happen. Wake up and put morality above legality.

Get Ready! MSM Predictive Programming Calls This The "Calm Before The Storm"

Many states and counties or cities within states are going into various stages of lockdown once again. Those that aren't in some stage of lockdown already will be pushed that way in the coming weeks. As we've said before, if the ruling class believes they can get away with putting everyone on house arrest so they can conceal and cement their plans for world domination, they will do so.

And once again, it's up to us to stand up and say: "No. We will not comply."

[DISPLAY_ULTIMATE_SOCIAL_ICONS]