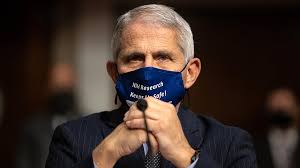 Dr. Antohony Fauci has admitted that he moved the goalposts when it comes to herd immunity from the COVID-19 vaccines. This isn't the first time the ruling class has lied and moved the goalposts either.
Remember when the tyrants said it won't be over when the vaccine arrives? And even after being vaccinated with the horrific concoction of God-knows-what, you'll still have to wear the ritualistic shame muzzle. 
They Moved The Goalposts…AGAIN!: "It's Not Over When The Vaccine Arrives"
Tyrants: "Prepare To Wear Masks & Socially Distance Even After Getting COVID-19 Vaccine"
The mainstream media isn't sure how to "report" on Fauci's lies and brainwashing scheme. They don't seem too distraught that a member of the ruling class has lied to them and they continued to propagate it for the slaves
Reported by some outlets as a "confession," Fauci told The New York Times: "When polls said only about half of all Americans would take a vaccine, I was saying herd immunity would take 70 to 75 percent …Then, when newer surveys said 60 percent or more would take it, I thought, 'I can nudge this up a bit,' so I went to 80,85." –Fox News
Fauci claimed that he made "a guestimate," and he remained firm that a more realistic range for "herd immunity" from a vaccination program would be 75-80% of the American population needing to willingly take this vaccine. "I think 75-80% for herd immunity for COVID-19 is a reasonable estimate, and in fact, most of my epidemiology colleagues agree with me," Fauci clarified.
Lying tyrant Fauci is also confident enough Americans will willingly take the COVID-19 to reach "herd immunity" by the end of summer next year. "I'm pretty confident as we gain more momentum, as we transition from December to January and then February and March, I believe we'll catch up with the projection."
So far, there looks to be an uphill battle in convincing more than half the population to take this thing willingly.  Once people stop lining up for the disturbing side effects of this vaccine, there will be a punishment/reward system in order to properly inoculate everyone into the beast system. Obey, and get rewarded. Disobey, and be punished.
Medical Journal: Get The COVID-19 Vaccine, Or Be Punished HARSHLY