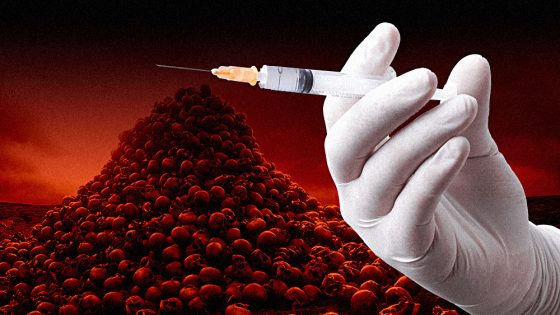 Dr. Moncef Slaoui, who is leading the Trump administration's Covid-19 vaccine program Operation Warp Speed, and a COVID Czar admitted that the vaccine for this statistically irrelevant virus has "significant side effects." These side effects will sicken 10-15% of people probably worse than if they were to contract the virus in the first place.
But the ruling class technocrats and oligarchs are going to need you to line up to get this crazy concoction injected right into your bloodstream. Additionally, a Centers for  Disease Control and Prevention panel is scheduled to vote on Tuesday on who will be the first to get a vaccine once one has been authorized by United States regulators, according to a report by CNBC. 
Both Pfizer's and Moderna's Covid-19 vaccines are "safe" say the mainstream media and the government, with only 10% to 15% of volunteers reporting side effects that were "significantly noticeable." The people who've suffered from side effects have reported redness and pain at the injection site as well as fever, chills, muscle aches, and headaches, he said, adding most people have no noticeable side effects.
Big Pharma Will Not Be Responsible For COVID-19 Side Effects Caused By Vaccines
Doctors Say The CDC Should "Warn" People About COVID-19 Vax Side Effects
The mainstream media will continue to parrot the narrative for Big Pharma and the government and attempt to brainwash as many people as they can into getting this shot.  Unfortunately, we will all likely know someone who takes it as about half of the population says they would line up to be injected with this thing.
The biggest fear the ruling class has right now is that the slaves will refuse this vaccine and not enough will willingly submit.
Army General In Charge Of COVID-19 Vaccine Distribution Fears The Public Won't Take It
Bill Gates ADMITS The Problem With A Vaccine Is Convincing People To Get It
FDA Commissioner Shares Bill Gates' Concern: People Might Reject The Coronavirus Vaccine
Preparation to distribute this vaccine is already underway, and the military will make sure it's rolled out.
Trump: "The Military Is Ready To Deliver A Vaccine"
"We really need to make patients aware that this is not going to be a walk in the park," Dr. Sandra Fryhofer of the American Medical Association told the CDC advisory group on November 23. "They are going to know they had a vaccine. They are probably not going to feel wonderful. But they've got to come back for that second dose."