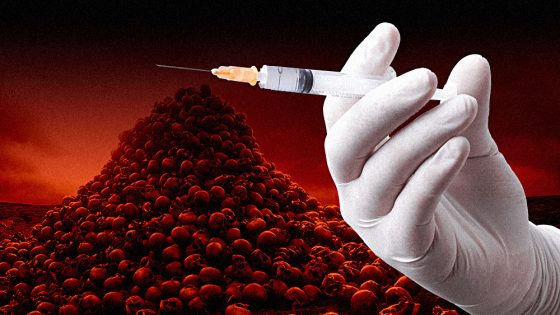 Apparently, the side effects from the COVID-19 vaccine the military is rush into every corner of America "won't be a walk in the park." Now doctors are asking the Centers for Disease Control and Prevention to warn the public of the disturbing side effects of this vaccine.
Who would have thought a rushed vaccine with little regard for human health or safety would come with side effects? If you missed the sarcasm, that was it. Dr. Sandra Fryhofer said that both Pfizer's and Moderna's Covid-19 vaccines require two doses and she worries whether her patients will come back for a second dose because of potentially unpleasant side effects after the first shot, according to a report by CNBC.
Big Pharma Will Not Be Responsible For COVID-19 Side Effects Caused By Vaccines
Both companies acknowledged that their vaccines could induce side effects that are similar to symptoms associated with mild Covid-19, such as muscle pain, chills, and headache.  If that's the case, why not just get COVID-19 if you're young and healthy and have real immunity instead of this false sense of safety provided by a vaccine.
Participants in Moderna and Pfizer's coronavirus vaccine trials told CNBC in September that they were experiencing high fever, body aches, bad headaches, daylong exhaustion, and other symptoms after receiving the shots. While the symptoms were uncomfortable, and at times intense, the participants said they often went away after a day, sometimes sooner, and that it was better than getting Covid-19.

Both companies acknowledged that their vaccines could induce side effects that are similar to symptoms associated with mild Covid-19, such as muscle pain, chills, and headache.- CNBC
"We really need to make patients aware that this is not going to be a walk in the park," Fryhofer said during a virtual meeting with the Advisory Committee on Immunization Practices, or ACIP, an outside group of medical experts that advise the CDC. She is also a liaison to the committee. "They are going to know they had a vaccine. They are probably not going to feel wonderful. But they've got to come back for that second dose."  

The propaganda being used to get healthy people to line up for this shot that will make them feel awful is unbelievable at this point.  "If this proves to work, people are going to have to toughen up," she said. "The first dose is no big deal. And then the second dose will definitely put you down for the day for sure. … You will need to take a day off after the second dose."

Fryhofer used the term "response" not "adverse reaction."  So far, this has done nothing to sway most logical people's minds toward getting this vaccine. If you don't intend to get a vaccine with a promised adverse reaction, make sure you know what that entails.

Medical Journal: Get The COVID-19 Vaccine, Or Be Punished HARSHLY

[DISPLAY_ULTIMATE_SOCIAL_ICONS]