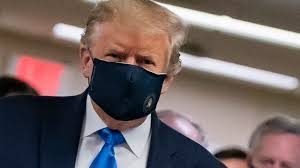 Donald Trump has announced that the military is ready to deliver a coronavirus vaccine to the public. He's also announced that the vaccine, being created under Operation Warp Speed will be ready very soon, as the government is "close to approval."
Are you ready to decline a vaccine being forced on you by the military? That time is rapidly approaching if you believe President Donald Trump. The horrifying reality is that so many were duped by Trump. He said: "We are investing in the development and manufacture of the top six vaccine candidates to ensure rapid delivery. The military is ready to go, they're ready to deliver a vaccine to Americans as soon as one is fully approved by the FDA and we're very close to that approval," Trump said during a press conference at the White House.
When the military is enlisted to help vaccinate people, you can bet that this vaccine will be the furthest thing from voluntary. If you cannot decide whether or not you want to inject yourself with whatever concoction Big Pharma has come up with, men with uns will help you decide.
Wake up, people.
The president also announced the U.S. government will purchase 100 million doses of Moderna's experimental coronavirus vaccine, which is currently in late-stage human trials.  Moderna separately said the deal for its vaccine, mRNA-1273, is worth $1.53 billion and will give the federal government the option to purchase up to 400 million additional doses. The U.S. has already invested $955 million in Moderna's vaccine development, bringing its total investment up to $2.48 billion, the company said in a press release Tuesday, according to CNBC.
More Proof Trump Is Working On Bill Gates' Vaccine Under "Operation Warp Speed"
The Pentagon & CDC Will Join Together To Mass Distribute The COVID Vaccine
All of these deals the government continues to strike with Big Pharma are part of the Trump administration's efforts to accelerate the development, manufacturing, and distribution of vaccines and treatments to fight the coronavirus under the program called Operation Warp Speed.
"We appreciate the confidence of the U.S. government in our mRNA vaccine platform and the continued support," Moderna CEO Stephane Bancel said in a press release.
We have been trying to warn you that this is coming and that Trump is in on it. The evidence is overwhelming, but a large number of people who are a part of the cult that worships Trump are being willingly ignorant of it all. Trump's OWN WORDS about using the "power of the military" against the American people should be enough, but sadly, many still have their heads stuck in the sand.
To those who think this means I somehow support Joe Biden because I'm sharing facts about Trump, start to use your critical thinking. They are all in on it. No president gets into that position without the seal of approval from the central banks. I do not support any power structure or any person who wants to control any other person for any reason. Humans were born to be free, not to enslaved and subjugated under a false sense of patriotism installed by brainwashing.
What's the solution, you keep asking? First, you have to realize that this is all rigged and set up by the central banks. Next, leave their system. Barter, use gold or silver or buy and use Bitcoin. Get off their grid, and become self-reliant. The establishment doesn't fear anyone who is dependent on their system. They need those people. Get out to the best of your ability. When enough people wake up to the reality of what has been done to us, there will be no one willing to force humans into slavery. There are no orders if there are no order followers.
The Establishment Doesn't Fear Trump, And It Doesn't Fear Bernie. It Fears You.
But the establishment which runs the US-centralized empire is not afraid of Trump, and it is not afraid of Sanders. It's afraid of you.

The unelected power establishment has ways of ensuring its dominance amid the comings and goings of America's official elected government; they are perfectly capable of dealing with one man being a less than ideal steward of the empire. What they absolutely cannot deal with, at all, is the prospect of ordinary people finally rising up and using the power of their numbers to force real change. That is what they are really fighting against. –Caitlin Johnstone
That's the solution. I've said it so many times and people keep asking for the solution. These people seem to need others to tell them they are free. Stop looking for solutions outside yourself and start acting like a free human being. No one owns you unless you believe they do. Wake up, leave the Matrix, and stop acquiescing to every tyrant who claims to have power over you. 
"The most improper job of any man, even saints (who at any rate were at least unwilling to take it on), is bossing other men. Not one in a million is fit for it, and least of all those who seek the opportunity."― J.R.R. Tolkien