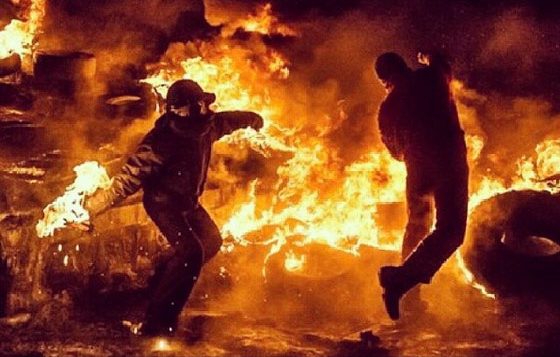 Things are going exactly how the elitists and the ruling class want them to. These riots will only worsen as the system drags out this vote and this is by design.
The secret election model predicted this scenario of chaos.  The elitists wanted chaos that will result in martial law, and they've got it. Out of this, will spring the New World Order regardless of who is chosen to "win" this election.
National Guard Put On Standby For The Coming Preplanned Chaos
Caravans of Denver police officers have deployed pepper balls and clashed with protesters who started a fire at the intersection of Washington and Colfax, according to FOX 31. FOX 31's Gergory Nieto added that a "handful of arrests" have reportedly been made. The protesters, who claim to be anti-fascist, carried a banner which read "Death to Fascism and the Liberalism that enables it" and were heard chanting "No Borders. No walls. No USA at all," according to a video shared by the Daily Caller.
Police also shared photos of items that had been allegedly seized from protesters in Portland, Oregon, which include commercial-grade fireworks, hammers, and spray paint.
Racism is Dead! Racist Elk Statue Burns In Portland, Oregon
The Multnomah County Sheriff's office announced that the National Guard has been deployed by Governor Kate Brown to respond to acts of violence as well as "maintain public order and ensure community safety."
"Guard members are trained in crowd control and will be riding with local response teams. They are dressed in military-style garb, which is their uniform," the Sheriff's office said. "Oregon National Guard members are civilian community members helping to protect us. We don't take this decision lightly." This is an effort to desensitize the public to martial law. Remember who will be rolling out the coronavirus vaccine?
Trump: "The Military Is Ready To Deliver A Vaccine"
Protesters took to the streets in Seattle on Wednesday as well, as people demanded that every vote in Tuesday's election be counted. Hundreds were protesting in both cities against President Donald Trump's court challenges to stop the vote count in battleground states.
The promised election violence is here and the longer this election is dragged out, the worse this is likely to get. We all knew this was coming. Brace yourself, stay aware, stay alert, and stay prepared.