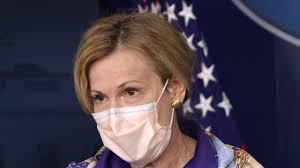 White House coronavirus adviser Dr. Deborah Birx is also warning that the U.S. is entering the "most deadly phase of this pandemic." Along with head medical tyrant, Dr. Anthony Fauci, Birx is saying a "much more aggressive action" is now needed to keep the case counts down.
"We are entering the most concerning and most deadly phase of this pandemic … leading to increasing mortality," Birx said according to a report by Market Watch.  According to the Washington Post, Dr. Birx issued the internal report early yesterday. "This is not about lockdowns — It hasn't been about lockdowns since March or April. It's about an aggressive balanced approach that is not being implemented," Birx said in the report, according to the Post. The memo also reportedly warned against any mass gatherings.
Greg Mannarino: "They Want People Desperate. People Aren't Desperate Enough"
According to all mainstream media outlets, we should be panicking again and living a life full of fear.
The Science of Fear: How The Elitists Use it to Control Us & How to Break Free
Allegedly, according to the propagandists in the mainstream media, new coronavirus cases have spiked in most states in recent weeks, with the daily number of new cases averaging nearly 83,000 over the past week. Hospitalization and death rates have also risen…allegedly. Of course, there is no proof of this claim and independent people and journalists earlier in the year found the "overwhelmed hospital" narrative to be a straight-up lie.
Over the weekend, Dr. Anthony Fauci told the mainstream media: "We're in for a whole lot of hurt" unless drastic action is taken to prevent a coronavirus surge this winter.  On Sunday, former FDA administrator Dr. Scott Gottlieb told CBS News that "things are getting worse around the country," specifically warning that Thanksgiving could be an "inflection point" that leads to an even worse situation in December.
Prepare for the "dark winter" they keep promising. It probably won't have anything to do with being sick either.  This will come down to draconian and tyrannical authoritarianism forced on everyone outside the ruling class.
Those Who Planned The Enslavement of Mankind Warn Of "A Dark Winter" For Us
Connecticut has just rolled back their "reopening" plans to phase 2.1 and is now enforcing harsher restrictions on restaurants and social gatherings. It sure looks like those who plan to celebrate Thanksgiving with family this year are going to be outlaws.
NYC Mayor Comrade De Blasio Shuts Down Thanksgiving Day Parade
Fauci Wants Everyone To "Sacrifice" By Refusing To Celebrate Thanksgiving
Who even knows what this country will look like by Christmas at this point…