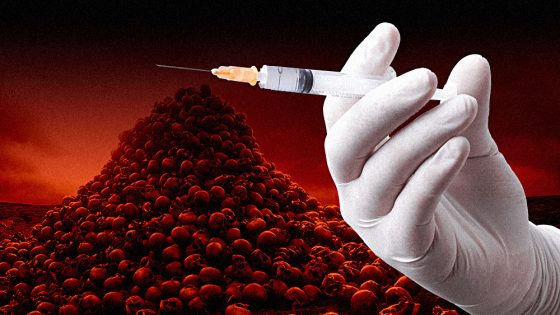 The White House has taken even more steps to ensure a vaccine for the COVID-19 scamdemic will be available by the election, which is scheduled to take place on November 3. The Trump administration has removed Food and Drug Administration regulations that would prevent a vaccine from being ready before November.
Time is running out. There will be a vaccine and you will be expected to take it voluntarily. If you don't, you will be punished until you comply. This has become all to obvious, but people are still under some delusion that they will be offered a reasonable alternative to accepting this vaccine.
At issue was the FDA's planned instruction that vaccine developers follow patients enrolled in their trials for at least two months to rule out safety issues before seeking emergency approval from the agency. A senior administration confirmed the move Monday evening, saying the White House believed there was "no clinical or medical reason" for the additional requirement. –Market Watch
This means the safety rules in place (which aren't that stringent for vaccines to begin with) are going to be removed in order to make sure a vaccine is pushed through by the election. Operation Warp Speed will be rolled out as soon as possible.
Trump: "The Military Is Ready To Deliver A Vaccine"
Only one drugmaker, Pfizer, has suggested it could have data on the safety and effectiveness of its vaccine before Election Day. And a number of variables would still have to align for the company to submit, and the FDA to review and approve, a vaccine application before Nov. 3. Pfizer's competitors Moderna, AstraZeneca, and Johnson & Johnson are working on longer researcher timelines.-Market Watch
Moderna Says Their COVID-19 Vaccine Will NOT Be Ready Before The Election
Just because the vaccine may not be available by November 3, doesn't mean one won't be rolled out shortly afterward.  The Trump administration seems intent upon releasing a vaccine to the public before the election.
Trump Administration Is Stockpiling 3 Different Types Of COVID-19 Vaccines
If you intend to deny this vaccine, prepare. Stock up food and water because you probably won't be allowed in stores or to work. It will not be voluntary by any measure of the definition of the word.  You will be forced to take it one way or another and if you don't expect punishment.  Get ready if you don't want it. It is coming and it will be shoved down our throats.
Medical Journal: Get The COVID-19 Vaccine, Or Be Punished HARSHLY
Brace yourselves. This is going to get ugly in the next 30 days. Not just with the election, ut with this vaccine.  And any number of other calamities that could creep up before then. Prepare, be aware, and remain unafraid.