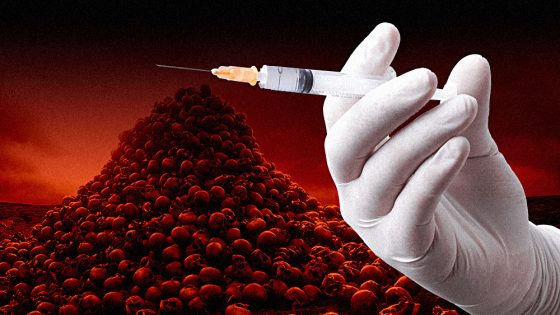 The Trump administration is now stockpiling three different types of coronavirus vaccines through Operation Warp Speed. None of these vaccines have been approved for use but all are from different Big Pharma companies.
Based on all the information available, nothing about this new COVID-19 vaccine is neceasrry, yet it looks like it is going to be mandatory. Even IF the "law" doesn't mandate it, there will be ways to coerce Americans into getting it.
How Much Fiat Currency Would You Take In Exchange For The COVID-19 Vaccine?
The United States has already manufactured and stockpiled "hundreds of thousands of doses" of coronavirus vaccines in the hopes that one will be effective in combating the virus, a senior administration official said Tuesday, according to a report by Fox News Business. Should the Food and Drug Administration give any of these concoctions clearance, the vaccines would be ready to be deployed by the military, as Trump himself has already said would happen.
FDA Commissioner Is Willing To Skip Phase 3 Trials On COVID-19 Vaccine
Trump: "The Military Is Ready To Deliver A Vaccine"
Time is almost up. You had better wake up uick. Trump is going to have these vaccines ready before the election ost likely. If we stand any chance at retaining our humanity and the freedom which is our birthright, we had better learn to stand together and opposed this en masse!
"As I mentioned manufacturing is already underway for three of our vaccines," Paul Mango, Health and Human Services deputy chief of staff, said last week. "We already have manufacturing started for the other three. We are retrofitting a number of facilities."

Mango said the U.S. expects to have four coronavirus candidate vaccines in large-scale clinical trials by the middle of September. The government is "very pleased" with the progress, he said. –Fox News Business.
Operation Warp Speed was spearheaded by president Trump. The ambitious $10 billion program bean in mid-May with the goal to develop, produce, and distribute a COVID-19 vaccine by the end of the year. Operation Wapr Speed would also creat  of making "at least" 300 million doses to administer to Americans.
More Proof Trump Is Working On Bill Gates' Vaccine Under "Operation Warp Speed"
Medical Tyranny: Trump Pivots To Mandatory Vaccinations Under Operation "Warp Speed"