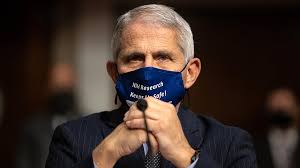 Dr. Anthony Fauci is warning yet again of a troublesome winter. The "authorities" don't seem to want to stop talking about how bad things are going to get in the coming months. Especially when it comes to this scamdemic.
Winter is approaching and so is the prospect of a "twindemic" if you believe the fear mongers in the mainstream media and the government authoritarians. It almost seem like they are signaling to us that there will be another lockdown for any reason they can come up with.
Fauci's Warning: "Hunker Down" Over Winter, Second Lockdown Coming
Dr. Anthony Fauci, the director of the National Institute of Allergy and Infectious Diseases and an expert in infectious diseases for the last four decades, told CNBC's Shepard Smith Monday evening that it was more critical than ever to do these five things: wear a mask, social distance, avoid crowded spaces, do things outdoors where possible (if you aren't on house arrest), and wash your hands frequently.
Are Face Masks & COVID Rituals Occultist Symbols For Submission?
"I think we're facing a whole lot of trouble," Fauci said. "We have a baseline of infections now that vary between 40,000 and 50,000 per day. That's a bad place to be when you're going into the cooler weather of the fall, and the colder weather of the winter. In addition, we would like to see the percent positivity be coming down."
The COVID-19 "Dark Winter" PsyOp: Question Everything…
Those Who Planned The Enslavement of Mankind Warn Of "A Dark Winter" For Us
A second lockdown is becoming more likely by the day as the cases continue to allegedly go up. Fauci claims there isn't talk of shutting down again. But Fauci also said masks shouldn't be worn and now insists everyone wears one. "We're not talking about shutting anything down; we're talking about using public-health measures as a vehicle, or a gateway, to keeping the country open, to keeping the economy going. It is not an obstacle," the con man said according to Market Watch. 
Fauci also said there is no way that he's giving up on the behavior modification and assistance with the New World Order.  "This is an outbreak of historic proportions, the likes of which we have not seen in 102 years," he said, citing the 1918 flu. "There's no chance that I'm going to give up on this and walk away from it no matter what has happened." Fauci is dedicated to this agenda, and he says it himself.
I know people have already said I should stop suggesting storing food and water,  but I don't' care. Prepare. Stock up on food and water. If nothing else, you will be buying yourself more time.  Those who have planned the upcoming destruction, chaos, and violence are banking on people not picking up the suble clues as to what's coming.
If Fauci isn't giving up then neither should you.