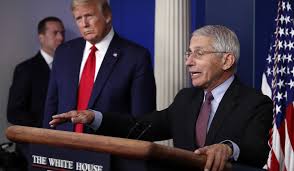 Dr. Anthony Fauci alluded to a second lockdown, saying Americans need to "hunker down" this winter because COVID-19 is "not going to be easy." This is all about control, as the mainstream media reports that coronavirus cases remain "unacceptably high" as schools and restaurants reopen, and flu season approaches.
We have already been warned that a "darkest winter" is in store for us, could that include another lockdown? Most likely. Prepare for it now, because autumn is quickly approaching. We have also already been told they are planning a second lockdown, so that might be something to at least make preparations for right now.
"We need to hunker down and get through this fall and winter because it's not going to be easy," Fauci said during a panel discussion with Harvard Medical School on Thursday according to Market Watch.  The director of the National Institute of Allergy and Infectious Diseases drew on his experience (and fraud) battling the HIV/AIDS epidemic in the 1980s and 1990s, which began with a handful of cases before becoming a global pandemic that has caused tens of millions of deaths and infected more than 70 million people worldwide in the decades since. For an in-depth look at who Fauci really is, check out the documentary, Plandemic. This documentary has been heavily censored all over the internet but can be watched here. 
The psychopath Fauci also warned that we should expect the worse, and not hold out hope that these tyrants will stop committing terrorism against us. "We've been through this before," he said. "Don't ever, ever underestimate the potential of the pandemic. And don't try and look at the rosy side of things."
"I keep looking at that curve, and I get more depressed and more depressed about the fact that we never really get down to the baseline that I'd like," he said.

Centers for Disease Control and Prevention director Robert Redfield also recently warned that Americans are in for "the worst fall, from a public health perspective, we've ever had," citing concerns of a possible "twindemic" of COVID-19 cases and the seasonal flu both overwhelming hospitals. The flu has seen between 140,000 and 810,000 people hospitalized each year since 2010, and is responsible for between 12,000 and 61,000 deaths a year. –Market Watch
It sure looks like they are advertising and ramping up the propaganda for another lockdown.  Be alert, and prepared, but don't fear. These tyrants feed off of your fear, and this COVID-19 scare is nothing more than that and their own statistics prove it.