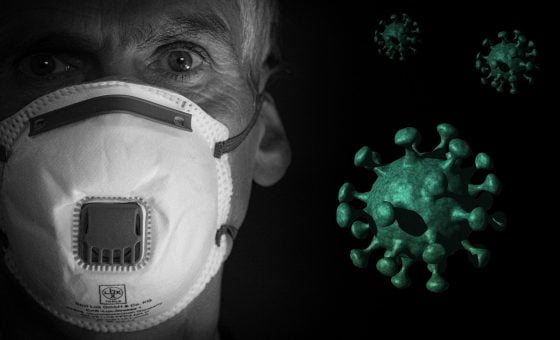 We have been warned. Another "scamdemic" dubbed the "twindemic," an increase in both coronavirus and flu infections, is all over the news. The fear is being ramped up as the mainstream media claims "experts" expect to see a surge in cases of both illnesses this fall and into winter.
If you haven't braced for the potential of a horrifically tyrannical winter, now is the time to do so. As Ritchie from Boston often says: "these dudes are doing this." They will do what it takes to get the New World Order, and Americans are far from unified. That means we won't be able to stop this. Too many are going along with the NWO, casting a vote like it matters are worried about who wins the next (s)election.
But there's a bigger problem looming, and it's the expansion of tyranny we are all living under right now.  Ans the powers that should not be are already telling us what to expect, for those paying attention:
Cases of respiratory viruses like the one that causes COVID-19 tend to rise in the fall and winter months as temperatures drop and people spend more time indoors. Most pandemic models predict a surge starting in the fall and worsening into the winter that could rival or even surpass the worst days of the spring. One well-regarded forecast sees a "most likely" scenario of more than 3,000 deaths a day in December and nearly 400,000 cumulative coronavirus-related deaths by the end of the year.

That timeline coincides with the typical course of flu season, which on its own causes about 37,000 deaths a year in the U.S. The combined risk of the coronavirus and flu virus has led some experts to warn of a "twindemic" that could overwhelm the country's health care capacity. –Yahoo News
In case you forgot, the overwhelming of the healthcare system was the reason given for the first lockdown. In order to prevent hospitals from having too many people to treat, we all had to lock ourselves away and give up our livelihoods for an overexaggerated outcome that never even came close to fruition. Since people were convinced the first time, it looks like they are using the same excuse the second time, in combination with the flu, ramping up the fear of both.
Wake up. This is manipulation and predictive programming. They are advertising their plans and they want a "twindemic."
CDC Director Robert Redfield called "the worst fall, from a public health perspective, that we've ever had."

Despite warnings about the risks of the coming months, many parts of the country are lifting lockdown restrictions on businesses and welcoming children back to schools. –Yahoo News
They are going to blame the second wave and teindemic on people who didn't want locked down under totalitarian dictatorship for a cold so severe, they have to test you to see if you have it.

[DISPLAY_ULTIMATE_SOCIAL_ICONS]