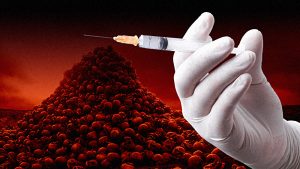 As if the "vaccine" being an mRNA gene therapy wasn't the first warning sign, new data is coming to light that exposes these shots as far from effective at stopping deaths.  New figures from Britain are raising red flags about the direction of Covid in wealthy countries that used mRNA and DNA shots to attempt to defeat the coronavirus last year.
According to Alex Berenson on Substack, hospitalizations and deaths remain stubbornly high and overwhelmingly occur in vaccinated people. In February, 90 percent of the 1,000 Britons who died each week of Covid were vaccinated.
Each week the British government releases a "surveillance report" which includes Covid deaths by vaccine status. SHTFPlan has reported on these and other reports frequently, and alarmingly have noted a rise in deaths among those who were injected with these shots:
More Than 66% of "Fully Vaccinated" Israelis Now Suffering Adverse Reactions To The "Vaccines"
Comparison of Official Government Reports Suggest Fully Vaccinated Are Developing Acquired Immunodeficiency Syndrome
Ruling Classes Cease Publishing Their Own Data Because It Shows "Vaccines" Are Resulting in AIDS
More Government Documents Prove COVID-19 Vaccines Are Causing AIDS
One of the more disturbing charts that was released by the ruing class of the United Kingdom (that pressure it's slaves to take these shots) was this one:
In the four weeks ending February 27th, 397 unvaccinated Britons died of Covid, compared to 3,512 who were vaccinated. Using a broader definition, which may include more incidental deaths unrelated to Covid infections, the numbers are even worse, with 5,871 vaccinated people dying compared to 570 unvaccinated. (The United States does not publicly provide this data; it is not even clear American public health authorities collect it comprehensively.)
Meanwhile, new Covid infections have nearly doubled in Britain in the last two weeks, and now top 60,000 a day. British media outlets have connected the rise to Britain's "freedom day" on February 24, which marked the legal end of Covid restrictions. With over 73% of Britons "fully vaccinated" you would think these numbers would be the other way around since the rulers are telling the slaves the shots keep you from dying.
Not only are the vaccinated more likely to die from COVID, but infections are also increasing in the UK, with 65,093 new infections reported on average each day, according to Reuters' coronavirus tracker. That's 31% of the peak — the highest daily average reported on January 4. A quick look at the charts on this site also reveals that deaths and hospitalizations are spiking much higher than in the pre-vaccine days.
When the mRNA jabs began to become available in December 2020, vaccine advocates predicted that poor countries that lacked access to them would face the misery of unceasing Covid epidemics, while wealthy nations would emerge quickly.

Fifteen months later, the reverse seems to be the case. –Alex Berenson
What's With All The HIV & AIDS Headlines in The MSM Lately?
Media Pushing "HIV Variant" Narrative as Cover Story for Vaccine-Induced Immune System Collapse
The mainstream media was quick to fact-check articles stating people were testing positive for HIV after taking the mRNA shots falsely labeled as COVID "vaccines." The MSM fact-checkers made sure people were told those HIV tests were labeled as "false positives." But in light of HIV actually being used in the COVID-19 injections, are they really "false?"