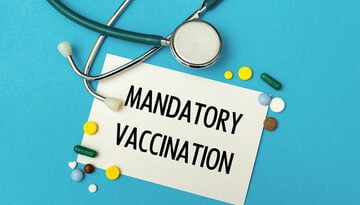 The Food and Drug Administration is trying to finish up the plans to fully approve the falsely labeled "vaccine." Once, the full approval happens, which will likely be sometime today, mandates will permeate almost every corner of this country.
 The United States surgeon general, Vivek Murthy, said on Sunday: "We already know that there are many businesses and universities that have moved toward vaccine requirements," Murthy told CNN's State of the Union. "And I think it's a very reasonable thing to do to create a safe environment."
The US Food and Drug Administration (FDA) is trying to finish its licensing process for the life-altering drug as soon as today, the New York Times has reported.
FDA "Finalizing Paperwork" For Pfizer's mRNA "Vaccine" Full Approval As Soon As Monday
"Vaccine" Mandates In Job Listings Soar As FDA Expected To Fully Approve Pfizer's Jab
Who didn't see this coming?
Medical Journal: Get The COVID-19 Vaccine, Or Be Punished HARSHLY
"We've given it to hundreds of millions of people," Murthy said. "We've seen that it's doing its job. And that's why we're continuing to recommend that people get vaccinated starting today and … as soon as they can." So far, this experimental gene therapy shot has been administered under former president Donald Trump's "state of emergency" declaration last year.
"The best protection we have against Covid-19 is the vaccine, and if you get Covid-19, we actually do have treatments that work," Murthy said. "Ivermectin is not one of them."
The Biden administration is also preparing to roll out an expansive booster-shot campaign next month, offering a third shot to patients who received the Pfizer or Moderna vaccines.
Unsurprising Alert: Biden Urges Fully "Vaccinated" To Get A Booster Shot
Everything seems to be happening at once.  Hurricane Henri is barreling down on the Northeast, "vaccine" full approval is likely today, another war with Afghanistan is brewing, and violence is taking hold in American streets. Not to mention the stores have less and less food every time we go.
Stay prepared and aware.  This will all come to a head at some point.  Is this is? Maybe, maybe not.  Only time will tell. Keep using critical thinking and discernment and decide today if you're going to bow down and lick the hand that feeds you, or prepare to go it alone.
We all knew this was coming. It's here now. Time's up.