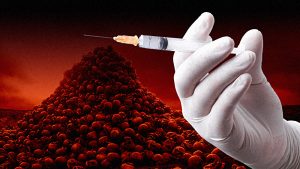 The Scottish ruling class has begun investigating the "mystery" surge in the deaths of newborns. The rulers say it is NOT due to COVID-19 infections.
For the second time in six months, a "very unusual" surge in baby deaths is said to be occurring, with the latest wave in March alone clocking in at 18 infant deaths over the course of four weeks.
Huh. Wonder what it could be…
Triple Vaccinated Deaths Skyrocketed 495% in January!
Ruling Classes Cease Publishing Their Own Data Because It Shows "Vaccines" Are Resulting in AIDS
Excessive Deaths Soar In Countries When "Vaccine" Uptake is High
According to a report by the Herald newspaper, the"very unusual" spike in deaths of babies, with the alarm being raised after 18 infants died within four weeks of birth in March. That same control limit was also breached in September last year when 21 neonatal deaths were reported, the first time this had occurred since records began.
"The neonatal mortality rate was 5.1 per 1,000 live births in September and 4.6 per 1,000 in March, against an average of 1.49 per 1000 in 2019," reports the newspaper.-Herald Scotland
Edinburgh University's Dr. Sarah Stock said, "The numbers are really troubling," but admitted she didn't know the cause of the deaths. Public Health Scotland (PHS) said the deaths could not have been down to chance, while the cause behind the previous spike in September also "remained a mystery."
U.S. Ruling Class Data: Fully "Vaccinated" Are Developing AIDS
Pfizer Knew Their mRNA Injection Caused Immunosuppression or AIDS
Hidden Pfizer Trial Data Shows That ALL "Vaccinated" Women In Pregnancy Lost Their Unborn Babies
What in the world has gone on recently that would cause a rise in deaths that isn't attributed to the rulers' inflated and invented "infection" numbers?
Life Insurance Companies Alert: Excessive Deaths Now Total Over 90,000 PER MONTH!
It will be interesting to see what the ruling class of Scotland determines as the cause of these excess deaths of newborns. The propaganda has not ended, and even though it may have slowed some, we know the end goal is to convince the entire world to take the mRNA injections they even now admit don't stop infection or transmission of a virus that hasn't been isolated and has a low mortality rate even by their own inflated numbers.
We live in strange times, and they could get stranger. Stay alert to what's going on. They may not be over the COVID scamdemic yet.