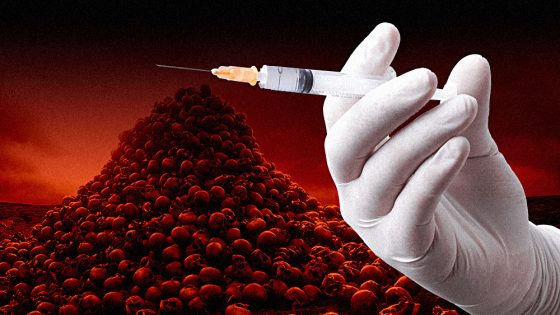 Pfizer BioNTech has requested emergency use authorization approval for a third dose, being referred to as a "booster" shot of the experimental gene therapy shot.  The Centers for Disease Control and Prevention have said that those who are fully "vaccinated" will not need a "booster"…yet.  But the propaganda is already gearing us up for continuous shots of this gene therapy.
COVID-19 mRNA Shots Are Legally Not Vaccines
"Americans who have been fully vaccinated do not need a booster shot at this time," the Food and Drug Administration (FDA) and Centers for Disease Control and Prevention (CDC) said in a joint statement on Thursday, adding that the health bodies are "engaged in a science-based, rigorous process to consider whether or when a booster might be necessary."
So then why are we being told to anticipate a third dose:
Booster Shots: Getting a Third Experimental Gene Therapy Shot Resulted With "More Severe" Side Effects
Moderna And Pfizer Are Developing "Booster Shots" For The Experimental Gene Therapy
BioNTech CEO Says "Booster" Shots of Pfizer Vaccine Will Be Required Every 12-18 Months
Scientist Who Helped Develop Pfizer Vaccine Says A Third Shot Will Be Needed
Israel Claims "Vaccine" Is "Less Effective" Against "Delta Variant", Suggests A THIRD DOSE
The Ruling Class And Big Pharma Team Up To Push A Third COVID Shot
"We are prepared for booster doses if and when the science demonstrates that they are needed," the CDC and FDA added. Based on that statement alone, we should be prepared for the FDA to authorize a third shot from Pfizer, and the ruling class and mainstream media to use propaganda to convince the masses to take it.  We should also brace ourselves for the imminent full approval of these experimental gene therapy shots.
Pfizer Will Seek FULL FDA Approval For The COVID-19 "Vaccine"
Recent data published in @Nature demonstrate the primary two dose series of BNT162b2 elicits strong immune responses against the #DeltaVariant and we are studying whether a third dose will boost them further. https://t.co/jI8IXV5Uzn pic.twitter.com/ZjctiVFVxB

— Pfizer Inc. (@pfizer) July 8, 2021
Vaccine makers have floated the idea of additional doses before, with Moderna CEO Stephane Bancel telling colleagues on a May earnings call that "We believe booster shots will be needed" to combat "new variants of concern."
To date, some 332 million doses have been administered to Americans, with around 158 million people – or nearly half of the population – fully vaccinated, according to official figures compiled by Our World in Data, according to a report by RT. 
So what's in this thing that they need in our bodies? It isn't "immunity" because we should all know by now they don't care about our health. This "vaccine" is an obvious and necessary piece to the overall agenda to dominate, control, and permanently enslave humanity, but how?
Keep asking questions. Keep using critical thinking. Something is up with this shot and most of us know it. We all know we're being lied to.