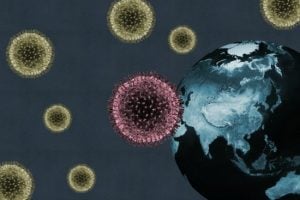 The mainstream media is doing its best to convince the masses that an omicron subvariant is almost as contagious as measles, which is allegedly the most infectious disease in the world. That could mean the end of people getting the injections, one viral expert says.
Once a COVID-19 variant "evades vaccines," people won't be lining up to be injected with a sauce that doesn't work.  Even though there is a mound of evidence that proves those injected are not anymore protected than those that are not, they are obviously more worried about the messaging.
 David Montefiori, a viral expert at Duke University, told WRAL that the current COVID-19 vaccines are working well against the current COVID-19 variants, but a new mutation could spell doom for the vaccines. "We are seeing these new forms acquiring increased transmissibility and out-competing the earlier form," he said. "We will continue to have omicron lineages that will evolve and hopefully not be able to evade the vaccines."
But are the "vaccines" working?
Fully Vaccinated College Campuses Are Seeing A Surge In COVID Cases
Scientific Data Shows That The Fully Vaccinated Have Become COVID "Super Spreaders"
Most Omicron Cases Hit The Fully Vaccinated
The Centers for Disease Control and Prevention's own director, Dr. Rochelle Walensky even said these shots can't stop transmission.
CDC Director: "What Vaccines Can't Do Anymore Is Prevent Transmission"
Instead of scrapping the "vaccines" though, they are pushing for us to get more. Montefiori says the shots should be updated regularly. "I think this virus is always going to be with us," Montefiori said. "I think it's going to be something we have to live with."
The fear-mongering has died down at least some with regards to the coronavirus and its plethora of variants, but the mainstream media and the ruling class are still attempting to keep people on edge as we wait for the next shoe to drop.