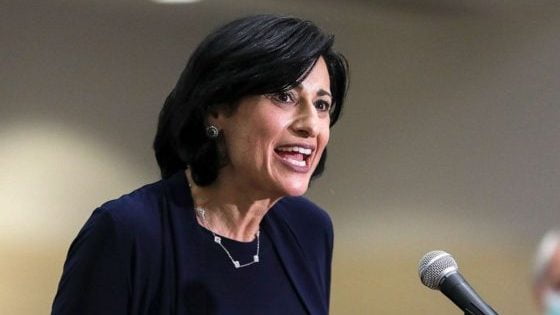 According to the Centers for Disease Control and Prevention's director, Rochelle Walensky, the "vaccines" the ruling class wants injected by force into every human on this planet do not prevent transmission. But line up, get all your shots, and your boosters!
During an interview with CNN's Wolf Blitzer, where she said, "What [vaccines] can't do anymore is prevent transmission." Could they ever? Breakthrough infections are happening all the time.
What Is the True Vaccine Breakthrough Rate? The CDC Doesn't Want You to Know
"Did Walensky just kill the vaccine mandates?" Tom Fitton, head of Judicial Watch, wrote on Twitter in response to Walensky's comments.
Did Walensky just kill the vaccine mandates? #SupremeCourt https://t.co/4SE3AjJmwF

— Tom Fitton (@TomFitton) January 10, 2022
"What we are seeing with the Omicron variant is that it tends to be milder person by person, but given how large the numbers are that we're seeing more and more cases come into the hospital," Walensky said on Fox News Sunday. "In some hospitals that we've talked to, up to 40% of the patients who are coming in with COVID-19 are coming in not because they're sick with COVID, but because they're coming in with something else and have had to, COVID or the Omicron variant detected."
Meaning these people probably don't even know they have COVID (which could be fabricated completely) and have to be tested to find out if the ruling class can mark them as COVID hospitalization to boost the fear rhetoric.
"What the vaccines can't do anymore is prevent transmission."

CDC Director Walenskypic.twitter.com/s3BjMVBOub

— DrScott (@drscott_atlanta) January 9, 2022
They are all but admitting this is was a massive scam. What's the point of the "vaccines" then if they don't do anything? We find out and it may not be good. As they continue to half admit this was a massive hoax, stay alert and keep your eyes open. Never put anything past these psychopaths. They will hold onto this narrative as long as it suits them.  Once they can no longer keep up with the illusion they crafted, they will try something else.
No one cedes power willingly and that goes for the tyrants who want to control you. Stay alert. No one knows what is coming next, but it could be something real and dangerous this time; not just the common cold.