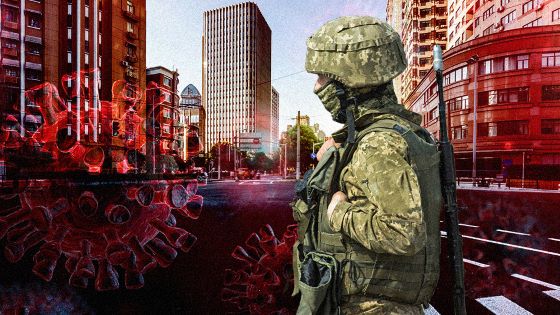 We are seeing the National Guard rolled out in American cities as looters and rioters wreak havoc on businesses and individuals as a "protest" to police killings.
Understandably, people on both sides are upset, yet this is just another way to get the public used to martial law.
"Out of an abundance of caution for the safety of Minnesotans, we have asked the Minnesota National Guard to prepare to assist in keeping the peace," Governor Tim Walz said. There is definitely an attempt to keep the violence levels high so we all get used to seeing the military on our streets.  According to officials (the ruling class), the National Guard was activated following the release of former Minneapolis police officer Derek Chauvin from a correctional facility. Chauvin was captured on video kneeling on the neck of George Floyd until he died.
Here's What's Coming for America as the Coronavirus Spread: MEDICAL MARTIAL LAW
The following was written in 2014:
https://thecommonsenseshow.com/martial-law/fema-camp-mass-incarceration-goal-ebola-crisis
We are on the cusp of absolute tyranny. The presence of the military on American streets should concern everyone.
Out of an abundance of caution, Soldiers from the @MNNationalGuard are being activated by @GovTimWalz under Executive Order. The Soldiers will report for duty and stage in preparation for potential response in support of local law enforcement pending specific mission requests. pic.twitter.com/As09Fvf3M6

— Minnesota National Guard (@MNNationalGuard) October 7, 2020
According to Fox News, as of right now, no violence has been reported in response to Chauvin's release.
It seems like the timing is impeccable to activate the National Guard.  Just look at what the military will be tasked with doing within weeks:
Trump: "The Military Is Ready To Deliver A Vaccine"
Systematic Collapse of Society: Manufactured Election Crisis & FAMINE
The election is around the corner and so is the vaccine. Perhaps this all just coincidence, but that seems incredibly unlikely.
Fauci's Warning: "Hunker Down" Over Winter, Second Lockdown Coming
If there is a second lockdown coming, there could be an expectation that people will revolt, and things could get really ugly.  It's hard to say how these events will unfold, but we know that there are plans for chaos, and certainly feels like all of the agendas are coming together for the elitists perfectly right now.