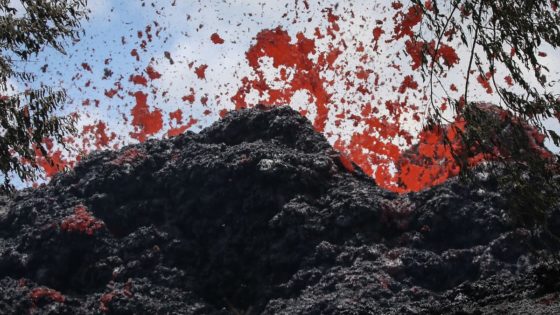 The Kilauea volcano on Hawaii's Big Island has awakened once again. The volcano is erupting as of Wednesday, Sept. 29, 2021, at approximately 3:20 pm. According to an official release, the USGS Hawaiian Volcano Observatory.
HVO detected a glow in Kīlauea summit webcam images indicating that an eruption has commenced within Halemaʻumaʻu crater in Kīlauea's summit caldera, within Hawai'i Volcanoes National Park. Webcam imagery shows fissures at the base of Halemaʻumaʻu crater generating lava flows on the surface of the lava lake that was active until May 2021, according to Big Island Now. 
HVO is elevating Kīlauea's volcano alert level from WATCH to WARNING and its aviation color code from ORANGE to RED, as this new eruption and associated hazards are evaluated.  The activity is confined to Halemaʻumaʻu and the hazards will be reassessed as the eruption progresses. Big Island Now
Kilauea last erupted in 2018 in dramatic fashion:
VOLCANO RED ALERT: Kilauea Still Erupting Now Poses THREAT To Humans And Aircraft
Hawaiian Volcano: EXPLOSION EXPECTED! 19 Fissures, Spewing 'Lava Bombs'
Changes in activity will happen fast, according to those monitoring the eruption. The Cumbre Vieja volcano on La Palma Island in the Canary Islands is also still erupting:
Canary Island Of La Palma ROCKED By Over 70 Earthquakes
Both of these volcanos have the potential of causing a tsunami on the coasts of North America. A Kilauea eruption or earthquake could cause the Hilina slump to slide off sending a tsunami towards the West coast. La Palma island could fracture during an earthquake or volcanic eruption cause a landslide and tsunami on the East coast.  Lava from this eruption has reached ocean water, which could also result in toxic gas emissions into the air. What are the chances of that happening? No one really seems to have a consensus.
Either way, consider having an evacuation plan in place just in case, especially if you live on the coasts. At the very least, keep your eyes and ears open as to what's going on. This could be nothing more than two volcanos erupting.  But this could also be worth noting and preparing for. Just in case.