This article was originally published by Daisy Luther at The Organic Prepper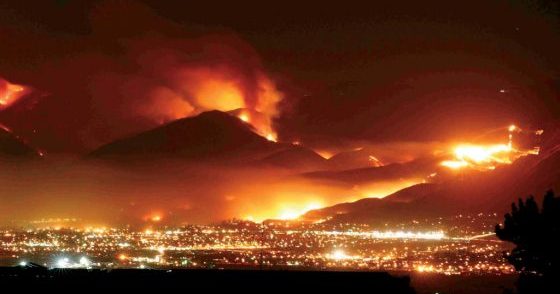 With wildfire season approaching in California, my thoughts are with my many friends there who have small farms. Even if you don't live in a wildfire zone, if you raise livestock, you need to have a homestead evacuation plan. Any place can have a barn fire, a chemical spill, or other environmental emergencies.
I've written quite a lot about evacuations since my family and I were right on the verge of it during the King Fire. Fires can approach shockingly fast, and being ready before there is ever a hint of smoke in the air is the best way to get out quickly when the time is short.
But things change dramatically when you add a farm or homestead to the mix. Suddenly, you have more living creatures in your charge than you do space in the vehicle. You absolutely must have a plan in place before a disaster occurs, because if you wait for the evacuation order, you've waited too long.
Create a homestead evacuation plan.
Here are some of the things that I learned about homestead evacuation. Use this to create your own plan, because disasters can strike anywhere and we all have different resources, livestock, and circumstances.
Be aware of what's happening nearby. When I lived in California, I haunted the local boards that discussed fires and other events. I had friends who were former firefighters and subscribed to phone notifications from the local sheriff's department. If there was a fire or mudslide nearby, I knew about it while it was still miles from me. That way, I could assess my plan and see if action needed to be taken immediately, or if I just needed to stay on top of the situation.
Figure out where you'll take your livestock. Often, local fairgrounds will open their facilities for farmers to bring evacuated livestock. Sometimes veterinarians and kennels will also accept evacuated animals. If you are in contact with other farmers, they may be able to make room for your animals. I belonged to a local homesteading group at the time, and we all made space for animals, trailers, and RVs if we could to help our friends during fire season.
Evacuate livestock early if you can. The last fire that was nearby was called the Trailhead Fire, and it consumed 5,646 acres over the course of 20 days. Toward the end, when it drew closer to our farm, I evacuated all our chickens to a friend's farm that was out of the danger zone. That gave me the peace of mind to know that if we had to evacuate for real, I only had to grab cats, dogs, and kid, which would have been far faster than chasing a bunch of panicked hens.
Have a way to transport your animals. You will either need a trailer, pens that can go into the back of a truck, or crates that can hold your livestock. You may need help from friends with trailers if you have a lot of animals. Have these things ready so that you aren't trying to figure out how to move the animals when a fire is approaching.
Have a plan for last-minute homestead evacuation. This is every farmer's nightmare because if the fire is approaching fast, you may not be able to load up all your animals in time.
Have trailers and trucks close to the livestock area for quick evacuation.
If you think you may need to evacuate, contain your livestock in the smallest area possible for ease of loading. For example, if your chickens normally free-range, keep them contained in a yard around their coop so you have a better chance of catching them. Close off the gates to the larger pastures and keep other livestock in the area closest to the trailers.
Practice loading up. This way, the animals get used to being loaded and are less likely to panic and fight you. Secondly, you know which animals are going to be the most uncooperative and you also have a feel for how long it takes to load them all.
Have blinders on hand. This may be nothing more than a piece of cloth or a fabric bag, but if your animals are panicking, it can be easier to lead them out if they can't see the threat. Most people think only of horses needing blinders but it can be far easier to lead goats and cows this way too.
Give every person a job. Even younger children may be able to help round up chickens or gather feed. Be sure that everyone knows what to do beforehand so that you can all work together quickly and efficiently.
Remember that if there is a threat like a nearby fire, animals are much more likely to panic due to fear. This means it will probably take longer to load them up.
Know what to do if you can't evacuate the livestock. If there is no time to load the livestock, at least turn them loose so they have a chance at escaping the flames. If your family is at risk of dying in the fire, you will have to evacuate and leave the animals behind. It's a horrible choice but could be necessary. Remember the Napa Valley fires last summer? Some people had only moments to flee fast-moving infernos.
Have you ever been through a homestead evacuation?
Have you had the experience of evacuating a homestead? If so, please share your story and tips in the comments section below.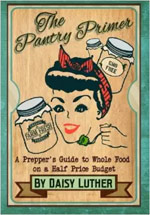 Please feel free to share any information from this article in part or in full, giving credit to the author and including a link to The Organic Prepper and the following bio.
Daisy Luther is the author of The Pantry Primer: A Prepper's Guide To Whole Food on a Half Price Budget.  Her website, The Organic Prepper, offers information on healthy prepping, including premium nutritional choices, general wellness and non-tech solutions. You can follow Daisy on Facebook and Twitter, and you can email her at [email protected]</e