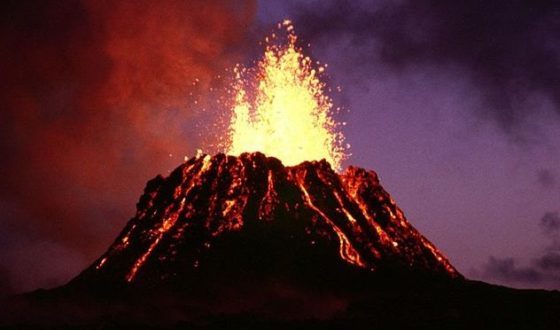 The Kilauea volcano in Hawaii is still erupting and now, the situation has gotten grimmer. The volcano's plume is posing a threat to aircraft and human life, prompting a code red aviation warning.
A massive plume of ash rising from Hawaii's Kilauea volcano prompted a warning yesterday to pilots planning to fly over the area. The eruption isn't just dangerous to people on the ground anymore — it could also bring down planes. A code red warning has been issued, as the eruption continues to intensify.
Kilauea has been spurting lava, molten rock, and poisonous gases from multiple massive fissures on the island of Hawaii since May 3rd. On Tuesday morning, the Halema'uma'u crater on Kilauea's summit also began continuously gushing ash — creating a plume that rose up to 10,000 feet in the air. Rocks falling into the vent may be responsible for more intense ash spurts. But that's not even the worst of it, the US Geological Survey warned: "At any time, activity may become more explosive, increasing the intensity of ash production and producing ballistic projectiles near the vent."
In addition to dangers from the bubbling, scalding-hot lava from the Kilauea volcano, residents on the Big Island of Hawaii are enduring threats from both vog and volcanic ashfall. The U.S. Geological Survey issued a "code red" for ashfall late Tuesday, due to the hazard it poses for airplanes and jets. Vog, short for volcanic smog, is the haze formed by gas and fine particle emissions from volcanoes, according to the American Meteorological Society.
The Hawaiian Volcano Observatory warned pilots about the gigantic ash plume by changing the aviation color code to red — which means that an eruption hazardous to air travel is happening, or could happen soon. This morning, local time, the Hawaiian Volcano Observatory announced that the color code would stay red for the time being. "It sounds a little bit alarming," USGS volcanologist Michelle Coombs said in a video statement. But the "code red" is just a warning to aviators flying by the island. "It doesn't mean that a really big eruption is imminent," she says. "It's really just characterizing that aviation situation."
Although Coombs says a big eruption is not imminent, the USGS's Hawaii Volcano Observatory (HVO) said in a statement that a red alert means otherwise. A red alert, according to the agency, means a "major volcanic eruption is imminent, underway or suspected, with hazardous activity both on the ground and in the air."