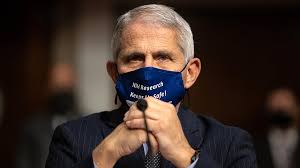 Dr. Anthony Fauci, the head medical tyrant in the United States is saying the next few weeks "are going to be critical" in the fight against COVID as he makes sure to fearmonger to the greatest extent possible. Fauci continues his tirade against freedom while being unable to explain how cases are down among those who don't care at all about COVID, and up where tyranny is running rampant.
It is odd how the less you believe the mainstream media's talking points today, the less you are impacted by anything, including the scamdemic known as COVID-19. Regardless of cases going down among states that have decided to "allow" people to have small amounts of their God-given freedom back, Fauci says the country is back in a precarious situation, according to a report by Yahoo News.  With daily COVID-19 case averages increasing in the past few weeks, Fauci wants everyone to believe that a potential surge that could mimic what is happening in Europe.
Translation: he wants people so panicked once again that the rulers can further enslave us and lockdown everyone for a second time.
Ruling Class Warns Of "Variant" The Could Spark Another Lockdown
Discernment and critical thinking are becoming rare skills these days.
Fauci told Yahoo Finance that getting Americans vaccinated is key in preventing another surge. Yet he's also said the vaccines don't protect you or others from getting COVID.  So which is it? Again, most can't apply simply critical thinking skills to what this tyrannical puppet has been saying.
"It is conceivable and theoretically possible…that an individual could be infected, while vaccinated not know it because they don't have any symptoms, and inadvertently spread the infection to someone else, which is a reason why that the CDC still recommends wearing masks after you get vaccinated," Fauci said. So how is the vaccine going to stop the spread or another surge? It won't, especially because we know it's not a vaccine, it's an experimental gene therapy that Russia's Sputnik V COVID-19 "vaccine" creator admitted alters your genetic material.
"I believe that the vaccine will actually have a major impact on preventing us from having a classical surge that we've seen before, but we can't be overconfident, which is one of the reasons why we keep saying over and over again, let's not declare victory prematurely," Fauci said.
Are Face Masks & COVID Rituals Occultist Symbols For Submission?
If you haven't figured out by now that we are being lied to in order to control us, there may be little hope that you'll figure it out.  But it still will do humanity well for those of us who do use our discernment and critical thinking skills to try to help others do the same. Pointing out inconsistencies in the words and speech of the ruling class is hardly medical misinformation. They just don't like it when people figure out they don't actually have any obligation to be slaves to anyone.