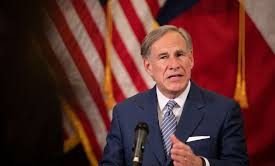 The governor of Texas, Greg Abbott, has announced that Texans, are now "allowed" to be freer.  He ended the lockdowns and mask mandates to the delight of the slaves, with not many questioning if he should even have the authority to strip them of their freedom in the first place.
We had better wake up.  This guy is going to now "allow" people to lie their lives, not freely, but almost as free as they were before COVID. Which wasn't that free anyway considering that government is slavery. Why do so many people need the permission of the ruling class to be free, when it's our birthright.  We had all better figure this out soon.
"People are cemented in their own cognitive dissonance and really, Stockholm syndrome. This is a solidification of Stockholm syndrome, writ large, " says Brian of High Impact Flix, a YouTube creator. "We can all go back to business because King Abbott said so!" Brian says mockingly.
Some tell those of us who wish for the complete abolition of all slavery to "take what we can get." Nope. I want it all. I want all of my freedom to live my life not under the thumb of any other human who I know I have no obligation to obey or be enslaved to. We should all understand that by now.
The fact that Abbott became a domestic enemy and then decides to give the people a few more links in their chains doesn't make him any less a tyrant. "Am I saying I WANT the mandates to be there? That's not what I'm saying at all. No man, on this earth can grant you or take away your freedom legitimately. It's not a construct of 'belief,' it's just true.  Does anybody have a higher claim over your life and property than you? The answer is 'no!'" Brian says. 
We need to stop celebrating our rulers who "allow" us to have some freedom that they had no legitimate right to take from us in the first place. This is the first step to waking up and realizing we don't need these tyrants. It's obvious. They need us and they need our compliance and obedience to their slave system.  It's past time we figure this out if we ever expect to be truly free.