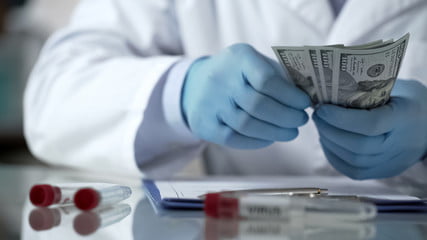 Head medical tyrant Dr. Anthony Fauci is expecting the Food and Drug Administration to fully approve the COVID-19 experimental gene therapies being falsely labeled as vaccines by the end of this month. Once that happens, the federal government will begin demanding employers and private businesses mandate the shot so they don't have to do it.
They are going to push off the responsibility for mandates onto others.  "No one wants to get ahead of the FDA because they're an independent group that makes their decisions and that's good in many respects because there will never be any concerns that we are influencing them, but I hope, I don't predict, but I hope that it will be within the next few weeks," Fauci said on NBC'S "Meet the Press." "I hope that it's within the month of August." That would be in the next 20 days.
Full approval is expected to lead to "a flood" of mandates for vaccines, although not at the federal level, he told USA Today's editorial board in a wide-ranging interview. "Organizations, enterprises, universities, colleges that have been reluctant to mandate at the local level will feel much more confident," Fauci said. According to a report by Seeking Alpha, Fauci is saying that the U.S. won't be locked down again.  Could that be because he expects people to take the shot once it's fully approved and mandated by businesses?
"They can say: 'If you want to come to this college or university, you've got to get vaccinated. If you want to work in this plant, you have to get vaccinated. If you want to work in this enterprise, you've got to get vaccinated. If you want to work in this hospital, you've got to get vaccinated,'" Fauci said.  And we know they want every human on Earth injected with whatever is in those syringes.
"Unless we vaccinate everyone in 200 plus countries, there will still be new variants," epidemiologist Dr. Larry Brilliant told CNBC Asia, who predicts COVID could become a "forever virus" like the flu. They have already let it slip that this hoax will go on until everyone takes the shot.
Ruling Class: The Scamdemic Won't End Until The WHOLE WORLD Is Vaccinated
Fauci says there won't be another lockdown, but this guy has flip-flopped, moved the goalposts, and changed his mind so many times during this hoax that it's impossible to trust him. We know by now that if these tyrants think for half a second that they can get away with another lockdown and still come out of it in power over the rest of us, they will do it.
Prepare for anything. I don't know about you, but I don't trust Fauci at all. He's a lying sociopathic tyrant. But he's getting desperate as his power slips away as more wake up to the slave state they've been living in under tyrants like him. Because of that, stay prepared and use critical thinking.  These people will stop at nothing to maintain power and we shouldn't put anything past them at this point.