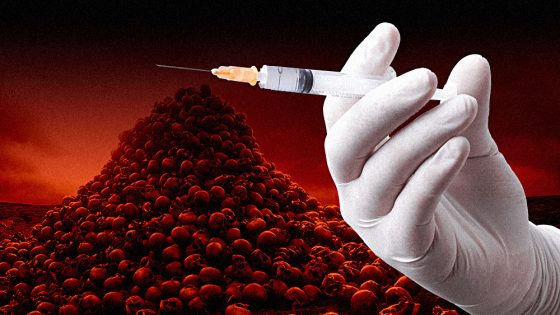 Only a single-digit percentage of adults in the United States, 9 percent to be exact, said they have a "great deal of confidence" in President Donald Trump's ability to confirm the effectiveness of a COVID-19 vaccine. Sixty-nine percent of Americans in the poll released Sunday said they don't have ANY confidence in Trump's endorsement of the vaccine.
Trump announced Friday that a vaccine will be ready "sometime in October," but the head of the Centers for Disease Control and Prevention (CDC) said it would likely not be widely available until mid-2021. Regardless, the vaccine is not popular with anyone.
Both parties are apprehensive about this vaccine and the epic rushing of it. Not to mention and the mainstream media's propagandized demands to take it. According to Newsweek, Americans' trust they could receive a "safe and effective coronavirus vaccine" has actually decreased since May, along with the number of people who say they would volunteer to receive an inoculation.
MORE Concern People Won't Take The Vaccine. Why?
Republican respondents in the ABC News/Ipsos poll were one group where there was a sharp drop in people willing to receive a vaccination. In May, 75 percent of GOP voters said they were likely to get a vaccine if and when it became available, but that has now fallen a full one-quarter to 50 percent in this week's poll. Conversely, 50 percent of Republican voters say they are unlikely to get the COVID-19 vaccine. –Newsweek
The Government Has Released Their Initial Plans To Force a Vaccine on EVERYONE

There are plans o force a vaccine on everyone. If you believe it "won't be mandatory" because a liar in a suit said so, you haven't figured it out yet. It probably will not be mandated by law, but that doesn't mean it will be "voluntary." You will be coerced to get this vaccine. If you don't get it, you won't be able to buy groceries or pay your mortgage. In order to "participate" in society you will have to be vaccinated. If you choose to not take the vaccine, which Trump has already promised to use the military to roll out in a "powerful way", your life is going to change dramatically. You won't be able to work or o to school. You won't be able to buy anything or even be in public. I don't think there's anything voluntary about that. That's a roundabout way to use force and coercion and you can sugar coat it all you want, but it won't change the facts.

It's beyond time to stop being naive. Wake up. The gravity of this situation is continuing to worsen and all people can focus on is the disingenuous words of politicians (liars in suits.)

[DISPLAY_ULTIMATE_SOCIAL_ICONS]