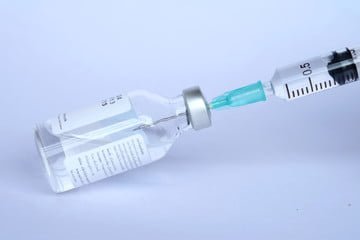 If the vaccine for COVID-19 won't be made mandatory, why is there always a politician or official or expert expressing concerns that the American public won't take it? What is in this thing that makes every single authoritarian eager to plunge needles into our arms?
Previously, Bill Gates and Dr. Anthony Fauci have both been worried that the public won't find a rushed vaccine to be very safe. Polling has shown that that's exactly how Americans feel and the coronavirus panic and fear being perpetuated by the mainstream media hasn't been working as well lately to convince people to line up for the shot. So what gives?
These same people pushing a vaccine continue to talk about a "dark winter" or elude to winter as a time frame for something big. Dr. Fauci is now concerned that a rushed vaccine is "fueling the perception that the vaccine is not safe or that it's being rushed for political purposes." Did you catch it? It's fueling perception...meaning this is a battle for your perception. The vaccine doesn't have to be safe. It has to be perceived to be safe. This is a truly disturbing dystopia we have found ourselves in.
Whoever controls your perception, controls your reality. Question everything. Especially something rushed that will be injected into every human being on this planet if they get their way.
Fauci told the New Yorker that he "never liked," the name "Operation Warp Speed" because it "suggests, incorrectly… that you're prematurely putting something out there that isn't entirely safe," echoing concerns he voiced in August that it "subliminally" suggests "reckless speed."
But there's been little about this vaccine that's been "subliminal." Everyone, including anchors on Fox News, Joe Biden, Donald Trump, and the entire Trump administration are intent upon vaccinating the public.
Even though polling shows skepticism about taking a vaccine, many (68%) are confident that the Food and Drug Administration ould only approve a safe vaccine, meaning they won't ask any questions when told to lift up their sleeve and take this shot.
Alan "The-State-Can-Plunge-A-Needle-In-Your-Arm" Dershowitz Is In Epstein's "Little Black Book"
Another question we should all be pondering is IF the ruling class is so concerned about the safety of a vaccine, why have the vaccine manufacturers been given immunity if their product causes serious harm or even death? Probably because, as we all know, this vaccine is about control and nothing else. We don't even know what's in this thing and these puppets want us to line up to be injected.
Why are they so intent upon vaccinating the public? And what the hell is in this vaccine? There's a lot of speculation, but it's difficult to come by actual ingredients on this concoction, and even if we did, who is to say there are not things in there that were conveniently left off the ingredient list.