A virology professor who played a key role in approving the Food and Drug Administrations's Emergency Use Authorization for Covid-19 vaccines died suddenly last week. Dr. Almyra Oveta Fuller, a notable associate professor of microbiology and immunology at the University of Michigan, died Friday at the age of 67.
'Died Suddenly' Trends on Google Search as MSM Tries To Describe Sudden Deaths of Vaxxed
According to a report by Info Wars, over the past few years, Dr. Fuller was a member of the Food and Drug Administration's Vaccines and Related Biological Products Advisory Committee, which approved COVID-19 vaccines and boosters in the United States for Emergency Use Authorization (EUA).
Watch: Prominent Virologist Dr. A. Oveta Fuller, who advocated for emergency use authorization of three Covid vaccines, has died suddenly from a brief unknown illness. pic.twitter.com/ovq1ltNCcS

— The Canadian Independent (@canindependent) November 21, 2022
In the following video from December 2020, Dr. Fuller can be seen participating in a discussion concerning the FDA's potential approval of a EUA for Moderna's Covid-19 jab.
From pandemic to endemic SARS CoV-2 will require wise decisions by leaders and each person. Required vaccines have stopped or reduced many illnesses – polio, measles, mumps, pertussis, chickenpox, smallpox, influenza… We must add COVID-19 to the list.https://t.co/ivwTNB6RQO

— [email protected] (@ProfAOFuller) July 20, 2021
Fuller was continually concerned that some people were deciding that these new experimental shots were not for them.
NPR Discussion on vaccine hesitancy among young black people is much needed. Questions should have a trusted safe relevant, "meet me where I am" place to be answered. [email protected]

— [email protected] (@ProfAOFuller) December 1, 2021
She also celebrated the third shot being called a "booster shot" saying we "gotta keep moving forward". Apparently, moving forward means allowing the ruling class more and more control over what goes into your body.
Pleased on Friday w VRBPAC colleagues persevering to recommend another tool in toolkit towards managing COVID. Grateful—a decidedly No request turned to unanimous Yes in EUA access to 3rd dose as boost. Progress—gotta keep moving forward people! Having a victory dance moment

— [email protected] (@ProfAOFuller) September 18, 2021
It isn't known for certain whether Dr. Fuller received any of the COVID injections and if so, how many. However, as Info Wars points out, judging by the professor's vociferous support of the experimental jabs, it can be safely assumed she likely adhered to CDC vaccine recommendations and most likely had received up to five Covid vaccine doses prior to her untimely demise.
Unfortunately, since there's a near-total blackout of information surrounding her death, it's impossible to say whether vaccines played a role – so we'll have to chalk this up to another mysterious case of Sudden Adult Death Syndrome.
Sudden Vaccines Deaths So Common They Have A Name: Sudden Adult Death Syndrome (SADS)
Fuller died on November 18, 2022, after a brief non-COVID-related illness, according to her obituary.  Other than her obituary, there is a mainstream media blackout about her death.
What is also worth noting, is that a search for "Dr. Oveta Fuller died suddenly" on Google revealed the following: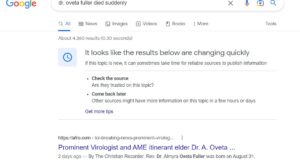 Someone doesn't want it known that this woman has "died suddenly". Try it yourself, and see if you can get different results from Google. But it definitely looks like someone is covering up some information and we can certainly speculate as to why.
The Tennessee Tribune published this obituary as well. This is a little interesting as well:
As a child biology intrigued her at an early age. She was amazed at how her grandmother recovered quickly from being bitten by a water moccasin after receiving antivenin, which was an antidote for snake venom.-The Tennessee Tribune
Correlation does not equal causation, but it is interesting that snake venom was mentioned in an obituary of a woman who "died suddenly" after pushing the COVID-19 "vaccines" on the public:
Major COVID Allegations: Snake Venom, Genocide, Water Contamination