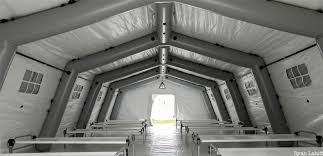 A woman from the United Kingdom has been arrested after she blew the ruling class's official narrative out of the water. The 46-year-old used a camera to film the inside of an EMPTY hospital after weeks of the media reporting that "tier 5 lockdown" is needed as the hospitals are overrun with COVID patients. 
These lies about this scamdemic won't stop and the totalitarian New World Order rollout will continue until people wake up to the reality of what's being done.  This has never been about health; it has always been about control. Now, a woman has been arrested for proving the ruling class and its lapdog media continue to lie to us to stoke the fear needed for our permanent enslavement.
In spite of the media's lies, public data shows that hospitals are indeed emptier than at this time last year, with beds being at 89% occupancy compared to 95% occupancy in December 2019. In regions across the country, critical care occupancy rates are also lower than the 3-year average, according to a report by ZeroHedge. 
According to reports, a 46-year-old woman was arrested by police (at the commands of the ruling class) for filming the video. She has been charged on suspicion of a public order offense. Whose side are the police really on? That's for you to decide.
"The woman has been bailed to return to police on 21 January, with conditions that she cannot enter any NHS premises or the grounds of any such premises, unless in the case of an emergency or to attend a pre-arranged NHS appointment," said a statement by Gloucestershire Police.
This is the video pic.twitter.com/dBnf9WqHKq

— KNOWLEDGE IS POWER (@truthbase100) December 30, 2020
Watch now, before Twitter censors and scrubs this video.
The woman expressed shock at how quiet the hospital was, saying she expected there to be "a few more people around, there's absolutely nobody."
Almost all of the emergency Nightingale hospitals that were built at a cost of £220million to handle overflow COVID patients were never used and are now being dismantled.
New York's COVID-19 Field Hospital Dismantled After Treating ZERO Patients
Army's Seattle Field Hospital Closed After 3 Days & Without Seeing A Single Patient
Many have also questioned why nurses have had time to perform carefully rehearsed and choreographed dances for social media clout, with family members of cancer victims who have been denied treatment complaining about their insensitivity.
— Paul Joseph Watson (@PrisonPlanet) December 29, 2020
Pay attention, and stay alert.  The lies will not stop. It's up to us to read, learn, and be able to discern these falsehoods and stand for those who have suffered under the boot of tyranny.