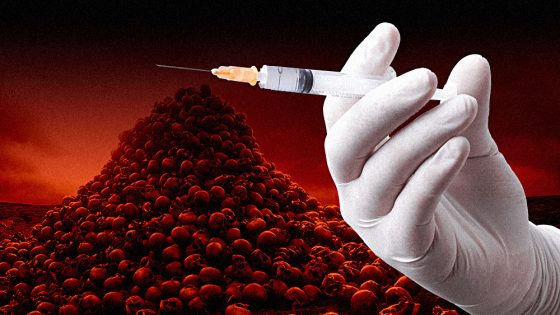 Sometime within the next four weeks, the Food and Drug Administration is expected to fully approve Pfizer BioNTech's COVID-19 "vaccine." The move is not being done because of long-term testing, but to "inspire more vaccine confidence."
The FDA will look to complete the approval process by the beginning of next month, "multiple people familiar with the plan" told the New York Times on Tuesday, while the FDA added in comments elsewhere that upgrading authorization from emergency use could "bring additional confidence" in the Pfizer jab. Litte was mentioned about safety and efficacy though, but our own eyes have shown us just how unsafe and ineffective this scam of "vaccine" has been.
COVID-19 mRNA Shots Are Legally Not Vaccines
"Acknowledging the urgency related to the current state of the pandemic, we have taken an all-hands-on-deck approach… in order to complete our review to help combat this pandemic surge," the agency told The Hill in a statement, though added it "cannot comment" on a specific timeframe.  This designation would come at the delight of the rulers who need every human on earth to submit to this injection.
The Labor Day timeline came out just after President Joe Biden said last week that he expects full authorization by "early fall," suggesting the FDA could make a decision even sooner.
CDC Director Says Government Is "Looking Into" Mandating The "Vaccine"
And, as we have pointed out repeatedly, two shots won't be enough.
Pfizer has also asked the FDA to approve a third booster shot for its vaccine, even as United States health officials insist additional doses aren't yet needed. Data out of Israel, however, suggests the immunization is quickly losing effectiveness against the more contagious Delta mutation, prompting officials there to roll out a booster drive for older and immunocompromised residents. The US Centers for Disease Control and Prevention (CDC) is now studying a similar move.
With more than 88 million Americans fully vaccinated with the Pfizer shot, it remains by far the most widely used immunization in the country, followed by Moderna's at 63 million. The latter vaccine wasn't given emergency approval until about a week after Pfizer's and continues to lag behind in the process for full authorization. While Moderna filed for final FDA approval on June 1, the company is still sending in data and hasn't said how long that could take. –RT
Although tyrant Biden has insisted that he would not issue a federal vaccine mandate for all Americans regardless of any "vaccine's" approval status, his administration made a rapid reversal after he vowed much the same for federal employees, who are now required to take the shot in order to work. If they do not submit to the jab, they will be forced to undergo regular coronavirus tests which have proved to be anything but accurate. Biden's CDC Director and fellow tyrant Rochelle Walensky also set off alarm bells last week after telling Fox's Bret Baier that the feds were "looking into" a universal mandate, though she quickly walked back the comment.
Be ready. Keep using critical thinking and discernment.  This vaccine situation is rapidly becoming something we should be concerned about. The biggest threat to these psychopaths in power is people refusing their jab and realizing the left vs. right paradigm lie. Once that happens in big enough numbers, do not put anything past them. They will not go quietly in the night and allow anyone to be free. They are going to fight this.
Stay prepared and aware, and refuse to live in fear.