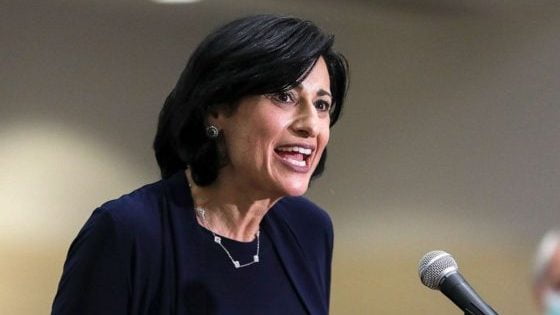 Centers for Disease Control and Prevention Director Rochelle Walensky told anchor Bret Baier that she and Joe Biden are "looking into" whether or not to establish a vaccine mandate. This comes as the ruling class struggles to get more people to believe the propaganda they spew surrounding this so-called "vaccine."
When Baier of Fox News' 'Special Report' asked Walensky about whether she was for forcing and mandating the jab, she said that she and Biden are looking into it. "Are you for mandating a vaccine on a federal level?" Baier asked. "That's something that I think the administration is looking into. It's something that I think we are looking to see approval of from the vaccine," Walensky replied.  "Overall, I think in general, I am all for more vaccination. But, I have nothing further to say on that except that we are looking into those policies."
"Right Now I'm Scared" – CDC Director Chokes Back Tears As She Fearmongers "Impending Doom"
As of right now, any mandates are at the corporate or local level, says Walensky. And we all know, regardless of what lying politicians say, that mandating this vaccine has always been in the cards.  "I completely understand the pushback," she responded, adding that the COVID-19 jab would not be the first vaccine to be mandated for institutions like public schools, as polio, pertussis and other shots are already standardized.
The CDC ADMITS: PCR Tests CANNOT Differentiate Between Coronaviruses!
But religious exemptions are still "allowed" (as if the government gets to "allow" us to do anything unless we are their slaves) and people can opt-out if they follow the correct protocols. We could be looking at an inability to opt-out, as with government overall, making us even more enslaved than we already are.
She added that as a former chief epidemiologist at Massachusetts General Hospital, she was mandated to receive an influenza shot every year to be able to hold her job. "I understand both perspectives," she said, adding that when it comes to medical staff that are reticent to receive the vaccine, that dynamic is simply the product of a "heterogeneous country."
"Some people haven't had access. Some people haven't had time off. Some people don't understand its benefits. Some people are worried about the side effects. So I think as we go and try and provide information to people who are not yet vaccinated," she said, adding that the CDC must take charge of understanding vaccine hesitancy and respond with information that may convince such folks otherwise.
Even though polling shows that those who have not yet gotten the shot, are unlikely to do so.
Once the public figured out what the ruling class was "looking into" in her own words, she backtracked saying there would be no mandates.
.@BerkeleyJr To clarify: There will be no nationwide mandate. I was referring to mandates by private institutions and portions of the federal government. There will be no federal mandate.

— Rochelle Walensky, MD, MPH (@CDCDirector) July 30, 2021
That means any mandate will likely come from employers or private businesses that will require it to "buy or sell."  For instance, a grocery store may mandate the vaccine.  But, on the other hand, if they can do so, grocery stores that respect people's basic human right to decide what goes into their bodies could ban the vaccinated from shopping.  Right now, it's about a 50/50 split, and unless they can convince more people to take this shot, we stand a chance against this tyranny.
Stay aware and alert.  Continue to use critical thinking and your own discernment. Look into everything and prepare the best you can for what could be coming. Things are continuing to ramp up and will hit critical mass at some point.