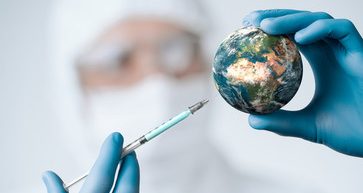 Because the first three shots aren't effective at preventing COVID-19 infection, the ruling class insists a fourth shot will be needed by fall. Many countries are or already have started injecting their populations with a fourth shot.
In the United States, some leading public health officials say they are "very carefully" monitoring if or when fourth doses might be needed. Israel was the first nation to roll out fourth doses, announcing in December that adults 60 and older, medical workers, and people with suppressed immune systems were eligible to receive the extra shot if at least four months have passed since their third dose. And their vaccine agenda has failed miserably. So logically, the rulers elsewhere are following suit.
Israel's Vaccination Program Is Failing: 6 Month High In New Cases
Israeli Study: Vaccines Do NOT Prevent Severe COVID-19
Israeli Study: 4th Dose Of COVID "Vaccine" Is Less Effective
We know it isn't convenient for the slaves who continue to bow to their masters to look at all the data beyond the brainwashing propaganda coming out of their television, but it's widely available on their own websites. Well, except the data that these shots are causing AIDS. That data needed to be removed because the slaves started to actually look at it and understand it. That's what makes this almost hilarious.
The US Food and Drug Administration "is indeed continually looking at the emerging data on the pandemic and variants in the United States and overseas in order to evaluate the potential utility and composition of booster doses," FDA spokesperson Alison Hunt wrote in an email to CNN on Friday.
"As more data become available about the safety and effectiveness of COVID-19 vaccines, including the use of a booster dose, we will continue to evaluate the rapidly changing science and keep the public informed," Hunt wrote. "Any determination that additional booster doses are needed will be based on data available to the agency."
More Government Documents Prove COVID-19 Vaccines Are Causing AIDS
Whistleblowers: The COVID "Vaccines" Are Causing Cancers & VAIDS
"Vaccination and boosting will be critical in maintaining that downward trajectory, particularly when you're talking about the red curve of severe disease leading to hospitalization," Dr. Anthony Fauci, director of the National Institute of Allergy and Infectious Diseases the U.S.'s head medical tyrant said during a White House Covid-19 Task Force briefing Wednesday. The "potential future requirement" for an additional boost or a fourth shot of the Pfizer/BioNTech or Moderna mRNA vaccines or a third dose of the Johnson & Johnson vaccine "is being very carefully monitored in real-time," Fauci said. "And recommendations, if needed, will be updated according to the data as it evolves."
The CDC has no recommendation of fourth doses of coronavirus vaccine for the general public, but the agency updated its guidelines in October to note that certain people who are moderately or severely immunocompromised may receive a fourth dose of the Moderna or Pfizer/BioNTech vaccines.
"For the immunocompetent people, a single booster shot continues to provide high levels of protection against severe disease caused by Omicron," Fauci said Wednesday. "This should not be confused with the fact that for many immunocompromised people, already a second booster shot — namely a fourth dose of an mRNA — is recommended because of what we know about their poor response to the initial regimen."
What else is causing people to be immunocompromised?
Ruling Classes Cease Publishing Their Own Data Because It Shows "Vaccines" Are Resulting in AIDS