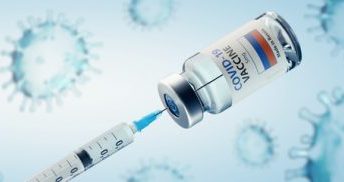 In what has to be the most illogical thought process known to mankind, over half of Americans are "concerned" that some others are refusing to take the vaccine. Vaccine believers are so into this new religion that they are overly concerned about what others do, or do not do.
The main question no pro-vaccine advocate can answer, is if your vaccine works (and that's why you go it right?) then why does someone else have to be vaccinated? Are you saying it doesn't work? Probably, because Fauci even said it doesn't work. Probably because it's not a vaccine anyway. That's evidenced by the rulers constantly telling people it won't stop you from getting COVID, it'll "lessen the symptoms." And even then, if you believe it works to do that, why not just let the people who won't get it suffer and we can compare down the road which ones made the right choice during this gigantic medical experiment of all of humanity?
In a new poll, it has become all too obvious that humans are willing to suspend their logical and critical thinking in exchange for blind obedience to their master.
New polling shows just how many Americans are willing to suspend critical thinking in exchange for obedient submission. Three times more concerned with people in their areas not getting vaccinated against Covid-19 than they are with the availability or distribution of the jabs.
After Running Out Of People Willing To Take The COVID Shot, Baltimore Resorts To Shaming
The main concern among Americans appears to be vaccine hesitancy from their fellow citizens. While over half of American adults have received at least one dose of a vaccine, 55% of those surveyed said they are concerned about people in their local areas choosing not to get vaccinated. Among that group, 28% are "very" worried and 27% are"moderately" worried. Another 16% said they are "not too" worried, while 30% are not concerned. -RT
It still is confusing how the unvaccinated are a threat to the vaccinated if vaccines work. The whole point is to create an immune response so when the virus is introduced, there will be no illness. If that's the whole idea behind vaccines, why anyone would care is beyond logic. No "authority" or doctor has ever been able to come up with an explanation as to why this phenomenon of thought that goes: "my vaccine won't work unless you get a vaccine that doesn't work too."
Critical thinking and discernment are going to be skills that are rare in the coming years. Hone them, and refuse to give up your free will. Ask the questions others refuse to ask because we could see something coming as the ruling class runs out of people willing to take this jab.
New Poll: U.S. Is Running Out Of Adults "Willing To Be Vaccinated"
Medical Journal: Get The COVID-19 Vaccine, Or Be Punished HARSHLY
"Now we're going to have to bring the vaccine to people who are less eager," Biden said Tuesday. "So we also know that there are millions of Americans who just need a little bit of encouragement to get the shot."
Who knows what that "encouragement" will look like. Personally, I expect it to look like tyrannical totalitarian enslavement.