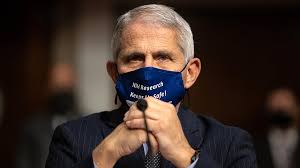 Dr. Anthony Fauci is finally facing some pushback by others in the ruling class. Dr. Rand Paul called Fauci a "petty tyrant" after Fauci said those who have gotten the experimental gene therapy shot still cannot "eat or drink indoors."
But even Paul is continuing to miss the entire point. These have already been shown to NOT be vaccines, to begin with, so it should come as no surprise that they don't prevent infection or the spread of the infection.
COVID-19 mRNA Shots Are Legally Not Vaccines
The comments came in response to a Sunday evening interview in which Fauci encouraged vaccinated individuals to continue taking precautions and not resuming normal activities just yet. But Fauci has been on this kick for a while.  Telling people to continue to act like slaves even after taking the experimental gene therapies has always been a piece of the official narrative.
Fauci: Vaccinated People Can't Dine Indoors Or Go To The Movies Still
When asked if eating and drinking inside restaurants and bars is "okay now," for those who have gotten the gene therapy jab, Fauci replied in the negative. "For the simple reason that the level of infection, the dynamic of infection in the community are still really disturbingly high," he said. "Like just yesterday there were close to 80,000 new infections and we've been hanging around 60, 75,000."
Even if vaccinated, individuals need to "remember that you still have to be careful and not get involved in crowded situations, particularly indoors where people are not wearing masks," according to Fauci.
Sadly, even Paul wants everyone to get the vaccine.
Fauci continues to ignore 100 years of vaccine science.

His only real theme is "do what I say" even when it makes no sense.

If you've recovered or been vaccinated – go about your life. Eat, drink, work, open the schools.

Enough with the petty tyrants! https://t.co/HiZR9JRuTI

— Rand Paul (@RandPaul) April 12, 2021
"Fauci won't let go of the fear. He can't. That's his brand," conservative author Mike Cernovich added.
Fauci won't let go of the fear. He can't. That's his brand. pic.twitter.com/47xJGPW47G

— Cernovich (@Cernovich) April 12, 2021
According to the number provided by the rulers, roughly 40% of adults in the United States have received at least one dose of the experimental gene therapy, and multiple states are beginning to roll back their pandemic-era restrictions on businesses. We are now supposed to be grateful the master has granted us more freedom?
We all had better wake up quickly. This narrative is falling apart quicker than the COVID numbers are dropping right now. Should we expect the rulers will just give on their totalitarian enslavement of mankind? I'll let you decide. Stay prepared.