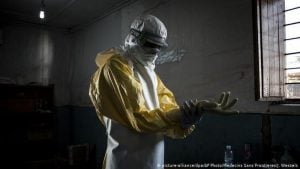 In June of 2016, SHTFPlan warned of "catastrophic failures" at a level 4 bio lab containing both smallpox and Ebola. It's interesting that now monkeypox is on the rise, and alarmingly similar to smallpox.
CDC Covered Up "Catastrophic Failures": At Level-4 Biosafety Labs Containing Ebola and Smallpox
Why Smallpox Will Make A Comeback: Canadian Researchers Spend Only $100,000 To Reconstitute Extinct Virus
There is more reason than ever to think that things could play out like the plot of an unsettling pandemic movie – where, say, a virus escapes from a government lab and spreads rapidly throughout the population. And unfortunately for all of us, the dense cities and sprawling suburbs of modern development are all-too-vulnerable to the rapid, viral spread of a contagion, as numerous flawed laboratories seem ready to fail and unleash something unspeakable. –SHTFPlan
Scientists Freak Out Over Pandemic Potential Of Genetically Engineered Smallpox
Some of these biological agents are already nearly unstoppable in terms of cures, vaccines, or other containment strategies. All of them have the potential to mutate as they spread throughout the population. Do not forget that Ebola is already much more deadly than any variant of the alleged COVID-19 scamdemic could ever hope to be.
And the potential is much worse than public discussion has acknowledged:
An Ebola virus could mutate to become transmissible through the air. The current Ebola virus's hyper-evolution is unprecedented; there has been more human-to-human transmission in the past four months than most likely occurred in the last 500 to 1,000 years. Each new infection represents trillions of throws of the genetic dice.
Recall that the 2014 outbreak of ebola in Western Africa led to a patient in the United States who potentially exposed an entire hospital and all its staff and doctors.
One patient with Ebola overwhelmed the entire medical system and put the entire country on edge as fear over how far it would spread gripped Americans and the world.
While the possibility of a mass pandemic again seemed distant in 2016, we know all too well that the potential for a really horrifying Ebola-like outbreak remains very real.  An engineered and released hemorrhagic fever will be deadly to almost half of the population. Ebola usually has a high mortality rate which ranges between 55% and 60%.
In 2015:
Bill Gates Warns Of Virus Worse Than Ebola: "We Are Simply Not Prepared To Deal With A Global Epidemic"
Prepare now, just in case. Things may get worse before they get better. If a hemorrhagic fever of any kind breaks out, you are going to want to avoid everyone for a lengthy amount of time.  In May of 2019, before the COVID-19 scamdemic arrived, SHTFPlan released an article about preparing for an outbreak: