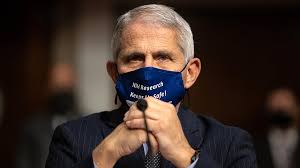 Head medical tyrant, Dr. Anthony Fauci says that April will begin "vaccine open season."  That's an interesting choice of words normally reserved for hunters…
But is there something more sinister to it?
Fauci Is "Sure" COVID Vaccine Will Be MANDATORY For School or Travel
"By the time we get to April, that will be what I would call, for better wording, 'open season,' namely, virtually everybody and anybody in any category could start to get vaccinated," he said on NBC's "Today" show. The remarks echoed his sentiment from days earlier that he expects the pace of vaccinations to improve in the months ahead.
Are Face Masks & COVID Rituals Occultist Symbols For Submission?
Americans Plan On Being Slaves Long After COVID Is "No Longer A Threat"
Other countries are locking down again or extending already months-long lockdowns as the mainstream media and the ruling class continue with the fear facade.
Amid heightened fears over the threat from new variants, Germany extended lockdown measures for an additional month despite a drop in cases, while the British government plans to introduce mandatory quarantine and prison sentences for travelers who lie on their entry forms. –Washington Post
The government's (slave masters) coronavirus vaccination program is ramping up so quickly that the vaccine should be available by April for almost all Americans, not just people in high-risk groups. "As we get into March and April, the number of available doses will allow for much more of a mass vaccination approach," he said Thursday on the Today show.

Because of the logistics of getting the vaccine into arms, it will be mid-to-late summer before most Americans are vaccinated, he said. But there's still that pesky issue of a good number of people not wanting to get this jab. In fact, one in three Americans say they definitely won't or probably will refuse to be vaccinated.

Make preparations now if you intend to refuse the vaccine. There are already plans in the works to punish those who won't take it.

Medical Journal: Get The COVID-19 Vaccine, Or Be Punished HARSHLY

[DISPLAY_ULTIMATE_SOCIAL_ICONS]