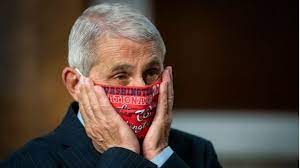 Even though the ruling class has now admitted the "vaccines" cannot stop transmission, the United States' head medical tyrant, Dr. Anthony Fauci, says a fourth shot of the same stuff that isn't working is "entirely conceivable."
COVID-19 mRNA Shots Are Legally Not Vaccines
Fauci made this statement during the January 23 episode of "This Week" on ABC. "We may need to boost again; that's entirely conceivable. But before we make that decision about yet again another boost, we want to determine clearly what the durability of protection is of that regular boost, that third shot," he said.
Fauci pointed out that health officials "don't know the durability of protection" imbued by a third dose of the mRNA vaccines from Pfizer and Moderna, and the second dose of Johnson & Johnson's adenoviral vector vaccine. "Certainly, you're going to see the antibody levels go down. That's natural."
"When I say protection, I mean protection against severe disease. You are going to see breakthrough infection as we've seen now – even in boosted people," Fauci said. But what we should be asking, is how they know the symptoms are mitigated? So far, the evidence is to the contrary, even evidence being put out by government entities.
Comparison of Official Government Reports Suggest Fully Vaccinated Are Developing Acquired Immunodeficiency Syndrome
Fauci's comments during the Jan. 23 edition of "This Week" followed his earlier appearance on the program, where he called for booster shots every six months.

"We would hope … that the third shot with the mRNA [vaccine] not only will boost you way up, but increases the durability so that you will not necessarily need it every six months or a year," he said at the time. "We're hoping it pushes out more. If it doesn't and the data show we do need it more often, then we'll do it."  –Natural News
So far, the data shows all of the shots are virtually ineffective at everything except giving people reactions to them.
CDC Director: "What Vaccines Can't Do Anymore Is Prevent Transmission"
These booster shots will be endless if people continue to allow it to happen.