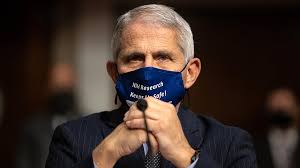 The ruling class isn't happy with just one layer over your face to symbolically muzzle you, they now say you should put on two masks. One of the government's head tyrants, Dr. Anthony Fauci, now says that the method of wearing two masks is "more effective" against stopping the spread of COVID-19.
"If you have a physical covering with one layer, you put another layer on, it just makes common sense that it likely would be more effective," Fauci said on NBC News' TODAY. "That's the reason why you see people either double masking or doing a version of an N-95."
The COVID rules will get more and more ridiculous until people finally wake up and realize they are being lied to and played like a grand piano.
Are Face Masks & COVID Rituals Occultist Symbols For Submission?
Don't expect the ruling class to stop moving the goalposts either.  It's time to wake up and realize no one else, be it a government or not, has any right to own or rule over you. But this time, they are using the new "highly transmissible" mutated strains of COVID-19 as an excuse to see just how gullible people can be.
Double masking may be especially helpful in slowing the spread of more transmissible new strains. The CDC has not officially recommended wearing two masks, but U.S. health officials do advise folks to wear a cloth mask with three layers of a surgical or N95 mask. The more you symbolically silence yourself and inhibit your breathing, the better to the masters who want only your complete subjugation.
What's the best way to wear your mask? ?

Scientific studies have found a double layer of fabric and surgical masks are the most effective in filtering out particles.
?AFP pic.twitter.com/nn0cFW6hhU

— Philstar.com (@PhilstarNews) January 20, 2021
One of Joe Biden's first in what's been a slew of executive orders has been a mandate for face masks on federal property. The ritualistic shame muzzle is mandatory for people who worship the government.
Biden Ignores His Own Mask Mandate on First Day: "Bigger Issues to Worry About," Says WH Press Secretary