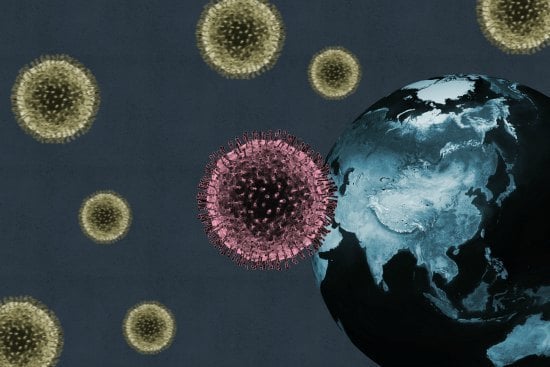 The coronavirus has apparently mutated and is more contagious than before when the rulers shut down the economy back in March.  It isn't more deadly, but it can now survive hand washing and face masks ritualistically worn by almost everyone now.
Tyrants: "Prepare To Wear Masks & Socially Distance Even After Getting COVID-19 Vaccine"
A new COVID-19 mutation appears to be even more contagious, according to a study — and experts say it could be a response by the virus to defeat masks and other social-distancing efforts, as reported by Fox News. That means the cases are continuing to rise even though the public is masked and obeying social distancing guidelines.
[WATCH] Social Distancing is a "CIA Protocol" That Amounts To Torture
David Morens, a virologist at the National Institute of Allergy and Infectious Diseases, said that the new study should not be over-interpreted, but added that the virus could be responding to public health interventions such as social distancing.

"All those things are barriers to transmissibility, or contagion, but as the virus becomes more contagious it statistically is better at getting around those barriers," he said.

Morens noted that this could mean that the virus might continue to mutate even after a vaccine is available, meaning the vaccine will have to be tinkered with – just as the flu vaccine is altered each year. –The Guardian
Experts also want you to know that cases are on the rise.  At a hearing before Congress on Wednesday, Dr. Robert Redfield, the director of the Centers for Disease Control and Prevention (CDC), emphasized data that shows that young Americans have been driving the rise in cases. According to Redfield, people aged 18 to 25 have made up 26% of new coronavirus cases – the largest of any age group. (This sounds like an excuse to lockdown everyone for this phony casedemic, but take that information as you will.)
Redfield also said more than 90% of the American population remains susceptible to COVID-19, crushing any belief about widespread immunity developing.
This seems to be an attempt to in up some fear and manufacture consent for another lockdown. Hopefully, Americans don't fall for this again.