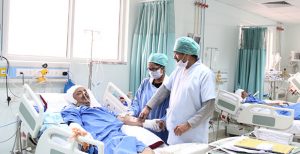 Antwerp hospitals in Belgium are beginning to get concerned. With a high fully vaccinated rate, they are getting overwhelmed with patients testing positive for COVID-19, and "they are all vaccinated."
But sadly, many are not blaming the "vaccines" for these hospitalizations. They say the rise in patients can only be good because they are losing strength.  "The alarm bells are going off. The concern is very great due to the strong increase in patients", Jan Flament, CEO of Hospital Geel said. "Thanks to the vaccine, the corridors are not full of corona patients, but the vaccines seem to be losing strength. A third vaccine makes perfect sense," said Flament according to World Today News. 
This statement is in bold contrast to that of Kristiaan Deckers, the medical director of the Antwerp GZA. "The profile of our intensive patients?", says Deckers. "They are now all vaccinated with breakthrough infections. Relatively young people aged 55 to 60, quite a few with immune problems. But we also see several seriously ill younger people, aged 30 to 35. So the question is whether the vaccines still work as well."
What Is the True Vaccine Breakthrough Rate? The CDC Doesn't Want You to Know
Immune problems? Like recent government data has shown when actually looked at and scrutinized?
Comparison of Official Government Reports Suggest Fully Vaccinated Are Developing Acquired Immunodeficiency Syndrome
COVID-19 Jabs Have "Real-World" Immunity of MINUS 73%, Meaning People Are LOSING IMMUNITY
More than 8.57 million people are fully vaccinated, accounting for 86% of the adult population in Belgium, and 74% of the total population.

Belgium has also started administering booster doses of coronavirus vaccines to people from certain vulnerable groups to keep the protection against the coronavirus sufficiently high. As of Tuesday, almost 636,000 people had received such a dose. –Brussels Times
Nothing to see here. Fauci says to get your third and fourth COVID shots too. Fortunately, people are beginning to see through this massive hoax scamdemic. It doesn't look like the shots are helping, yet the narrative remains "get the shot so you don't get sick with the cold." And it even looks like now, if you do get the shot, then get a cold, it is much worse than those who have refused to be injected.
This is in stark contrast to when the scamdemic was first announced and at the height of a "raging" plandemic, hospitals were empty.
Woman BANNED From ALL HOSPITALS In The UK For Proving Hospitals Are EMPTY
Army's Seattle Field Hospital Closed After 3 Days & Without Seeing A Single Patient
New York's COVID-19 Field Hospital Dismantled After Treating ZERO Patients
Of course, this is just all a massive coincidence, right? Nothing to see here. The major cracks in this power structure are starting to show. People are starting to figure this out. But we know, power will not be given up, they will fight to keep us under their control. Stay vigilant and prepared. Do not let your guard down.