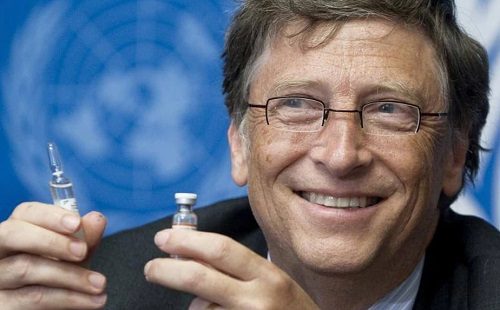 Bill Gates is warning that there will soon be a hardcore propaganda push in the United States in order to convince people to take the coronavirus vaccine.  Gates says the U.S. should brainstorm ways to reduce "vaccine hesitancy."
Gates is not the only technocrat who wants to use a harsh propaganda campaign with totalitarian forced compliance undertones of control disguised as "voluntary."
Coronavirus czar Anthony Fauci hinted back in June that he was already on the task of pushing vaccine propaganda, revealing the government had a "public relations blitz" planned in which "people [vaccine-hesitant Americans] can relate to in the community." These "relateable people" will be "sports figures, community heroes, people that they look up to" and will aid the federal government in the spread of the pro-vaccine gospel.
Gates had harsh words for both people who don't want to be controlled and manipulated and the social media platforms he believes enable them, complaining about free access to opinions and information. Gate whined that "very titillating things" like the notion that "somebody intentionally made this virus, or that there's some conspiracy" spread online "so much faster than the truth, which is that it comes from a bat," according to a report by RT.  Gates called on social media to censor information and use their power to silence others to promote things such as the ritualistic shame muzzle face mask.  He said he wants to "slow down or annotate things that actually cause huge damage, like not wearing masks or not being willing to take the vaccine if it proves that it is this key tool to getting back to normal."
Except we aren't ever going back to normal, Those elites and the ruling class puppets have already said the vaccine is not going to give us a free pass to return to normal, so what's the point? In case you haven't figured it out yet, the point is authoritarian control over everyone.
WHO Says We Won't Return To "Normal" After The Vaccine Is Released
Tyrants: "Prepare To Wear Masks & Socially Distance Even After Getting COVID-19 Vaccine"
Medical tyrants are also suggesting that the punishment for not taking the vaccine "voluntarily" will be harsh. A prominent medical journal (funded by the Bill and Melinda Gates Foundation) stated that a straight-up mandate would probably be challenged and nullified in court. So the journal suggested earlier this month in the New England Journal of Medicine should first focus on "at-risk populations" and those who refuse should be threatened with punishments such as job loss for failure to get vaccinated. Australian PM Scott Morrison similarly had to walk back comments that vaccination should be "as mandatory as possible" after intense public outcry.
U.S. President Donald Trump has promised the military with delivering a vaccine to the public.
Medical Journal: Get The COVID-19 Vaccine, Or Be Punished HARSHLY