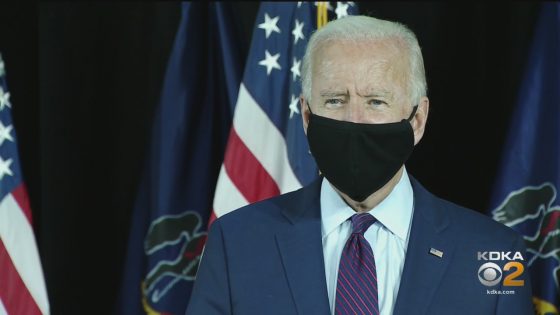 Joe Biden will "ask" Americans to wear face masks for 100 days if he is inaugurated in January. Biden also wants head medical tyrant, Dr. Anthony Fauci to be his chief medical adviser and to join his scamdemic response team.
Biden said he tapped Fauci for the job after their first substantive meeting on Thursday, requesting that he continue his role as a top health adviser and to remain on the White House's coronavirus task force, where he's served under President Donald Trump since the team was created in January, according to a report by RT.
Are Face Masks & COVID Rituals Occultist Symbols For Submission?
Creepy Uncle Joe also said he'd be willing to get the COVID vaccine as a "model to the nation." But remember, these people make a living as parasites, siphoning off the wealth of producers and lying to make it seem moral.
The Ruling Class Claims They Are Getting The COVID-19 Vaccine
In a CNN exclusive, Biden says he will take the COVID vaccine as a model to the nation, and that he spoke to Dr. Fauci today:

"I asked him to stay on in the exact same role he has had for the past several presidents. And I asked him to be chief medical adviser for me." pic.twitter.com/Ug1l5yzihN

— The Recount (@therecount) December 3, 2020
Social Engineering: "The Goal Should Be To Make Masks A Social and Cultural Norm"
Biden also stressed the need to wear face coverings to slow the spread of the virus, saying that he would not only "issue a standing order" mandating masks in certain settings (including federal buildings, buses, and airplanes), but he also called on the public to wear them for the first 100 days of his administration.
"I think my inclination, Jake, is on the first day I'm inaugurated… I'm going to ask the public for 100 days to mask. Just 100 days to mask, not forever," he said, arguing that would "drive down the numbers considerably."
CDC Study: Most COVID-19 Cases Were Admitted Mask Wearers
The health official was further criticized by Trump's backers after giving an interview to the Washington Post days before the 2020 election, where he praised Biden for "taking [the virus] seriously from a public-health perspective" while suggesting the president was largely concerned with "the economy and reopening the country." Biden, for his part, said on Thursday that "you don't have to close down the economy" so long as health officials give "clear guidance" to the public, cutting against a previous pledge to "shut it down" if "the scientists" recommended it. –RT
Biden's desire to mask and muzzle the population should concern everyone. He is ready to take the world right into the New World Order with the Great Reset. Prepare for anything, because it's still not known what exactly will take place between now and the inauguration.

[DISPLAY_ULTIMATE_SOCIAL_ICONS]