Yeah, I know Scottsdale hasn't been hit as hard as other areas of the country…like Detroit, etc…
…but this morning I realized just how strange the current state of the little shopping center near my house is.
The "anchor" store (an upscale grocery store) opened over a year year ago…and only a few other businesses have moved in since.  Off the top of my head, I would guess the complex is 20% full…MAYBE…and my guess is that high because the "anchor" store takes up a relatively large spot.
Granted, supposedly there are parts of Florida with entire shopping centers that have been deserted.
However, I have never seen anything like this in Scottsdale, and my family has lived here since the early '80s.
In years past, even during recessions, it pretty much seemed as if shopping centers like this, and anything else for that matter (e.g., houses), simply could not be built fast enough.  That is, for the most part, whenever a new shopping center or subdivision went up, it was basically filled immediately.
That has always been particularly true in the northern parts of Scottsdale, sometimes referred to as "Snottsdale" – it's sort of the yuppy-ish, Hollywood-like part.  Additionally, this shopping center sits near a large, very affluent master planned community ("DC Ranch").  Therefore, in "normal?" times, this seems like a great location for small businesses, etc….at least in my opinion.
Just to reiterate where this is – this is not on the outskirts of the Phoenix Metro area…like out in Queen Creek, Surprise, or Maricopa (areas where housing has gotten MURDERED since the peak). 
This is primetime Scottsdale these days.
As I was driving through it this morning, I was thinking what a waste it was.  It's a beautiful little complex.  I decided to take a few photos with my camera phone (which does a decent job IMO).
Anyway, I know a bunch of photos like this have been floating around the internet…but I thought you'd still might want to see these.
I might try to take more in the coming weeks.  I'm pretty sure there are a bunch of places like this in Scottsdale Airpark (it's a small airport surrounded by a bunch of commercial real estate – mostly small businesses).
(Click for larger image)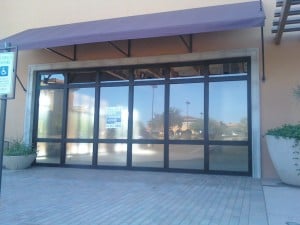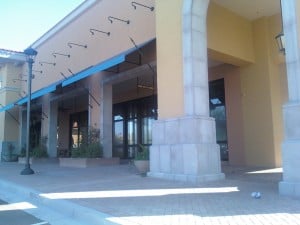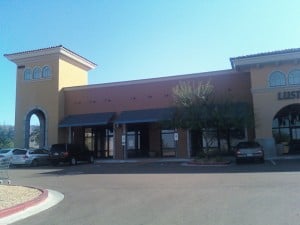 Here are a few more photos.
The first shows the anchor store…then a closer shot of the front of the store and the fountain there…then the last is of the end of that same building and another fountain.  Nice place…
As you can see, the anchor does do some business – heck, I'm there all the time.  It's important to keep this in context…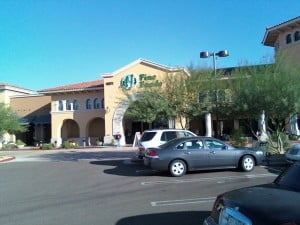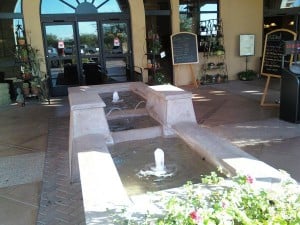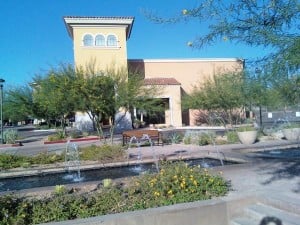 Desolation: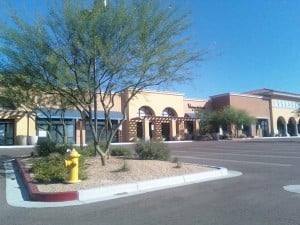 Like I said before, I can not remember a time in Scottsdale, especially in such a "hot" area, where a new, nice center like this had gone so long without being substantially filled by businesses.
Again, it's not Detroit…but I consider this to be VERY unusual for Scottsdale – especially in this particular area.