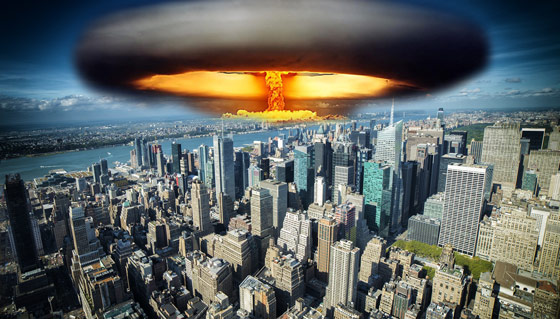 Kim Jong-Un's most recent missile launch sparked fears of a third world war. Responding directly to that missile launch, the United States has participated in war drills with South Korea.
The operation dubbed "Vigilant Ace" was branded as an "open, all-out provocation" by North Korea. The training drills are scheduled to last five days, aiming to improve South Korea and the US's wartime readiness. Impressive video from the initial drills shows F-16 jets training in the sky high above the North Korea border. The exercise is the largest ever co-operative drill. The US and South Korea used 230 aircraft, including 24 stealth fighter jets preparing for a war on the Korean peninsula.
Around 12,000 military personnel are taking part in the drills.  North Korea has also warned that these 'provocative' military drills  "may lead to a nuclear war at any moment." The North Korean warning came straight from propagandized state-run media, which also declared: "The US and South Korean puppet warmongers would be well advised to bear in mind that their DPRK-targeted military drill will be as foolish as an act precipitating their self-destruction."
The White House's national security adviser HR McMaster has admitted the North Korean newspaper threats are credible and more government officials now believe that a war looms.  "I think it's increasing every day, which means that we are in a race to be able to solve this problem. There are ways to address this problem short of armed conflict, but it is a race because he's getting closer and closer, and there's not much time left," said McMaster.
Republican Senator Lindsey Graham has called on the Pentagon to move the families of US military personnel out of South Korea, as a senior Trump administration official warned that the potential for war with North Korea was growing by the day.  "It's crazy to send spouses and children to South Korea, given the provocation of North Korea. South Korea should be an unaccompanied tour," Graham said on CBS's Face the Nation. "So, I want them to stop sending dependents, and I think it's now time to start moving American dependents out of South Korea."
"He's got the best national security team of anybody I have seen since I have been in Washington," Graham said of Trump, who has vowed to deny North Korea the ability to strike the US with nuclear weapons. "Denial means pre-emptive war as a last resort," Graham said. "The pre-emption is becoming more likely as their technology matures. I think we're really running out of time." If North Korea dares to conduct another nuclear weapons test, Graham added, "then you need to get ready for a very serious response by the United States".