Obamacare is proving to be a nightmare for the middle class, and even the politicians who once helped sell it to the public are now retreating.
In Minneapolis, where healthcare costs are mounting so steeply that individual payers will face 50% and even 67% premium increases next year, Democratic Governor Mark Dayton (who pushed Obama's "affordable" health care act) is calling for changes to the law to stop the pain that it is causing.
According to WCCO in Minneapolis:
Gov. Mark Dayton made a stunning admission on Wednesday about rising health insurance costs and the future of MNsure.

"Ultimately I'm not trying to pass the buck here but the reality is the Affordable Care Act is no longer affordable," Dayton said.

[…]

"The Affordable Care Act has many good features to it… but it's got some serious blemishes right now and serious deficiencies," Dayton said.

Premiums for 250,000 Minnesotans, or 5 percent of the population, insured under MNsure will skyrocket by 50 percent or more on some health plans.

[…]

"It is a crisis situation," House Speaker Kurt Daudt said. "I think it's a good step that the governor is now admitting that most Minnesotans can't afford this and I think that's a good first step to us now being able to work together to take some action to fix this so that we can find a solution that will get Minnesotans the health coverage they need at a cost they can afford," Daudt said.
At least the governor was big enough to admit his mistakes publicly and step back from the darkness.
For now, the situation remains an unmitigated crisis, and it is undermining the financial stability of the U.S. population.
Under the guise of taking care of everyone, President Obama and his cohorts have proceeded to strip away the wealth of the middle class. Those who aren't poor enough for subsidies, are not rich enough either to meet higher and higher prices.
The unfair burden placed on small businesses and free lance workers by these monstrous and out-of-control rates have taxed and penalized people back into dependence, forced lay offs and salary cuts, and allowed bureaucracy to creep into the delicate business of wellness – and those things don't mix.
As SHTF reported, insurance providers are dropping out of dozens of states, inefficient monopolies are taking hold and millions and millions of Americans are getting royally screwed over in the deal: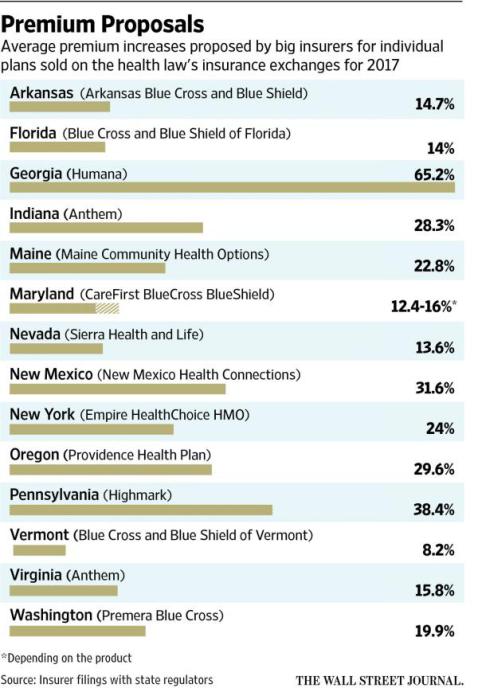 Worst of all, the cretins in Washington have already hinted at their grand "solution" to this healthcare affordability crisis – assuming, of course, that states can't patch it over first – by building in even greater federal control over socialized medicine that will put everyone under care of Dr. Uncle Sam.
That's because Obamacare is so unprofitable for the insurance companies, that many of them are pulling out of the system.

Participation by insurers in the Obamacare exchanges has already declined by 27 percent since the law took effect. In 2013, just before Obamacare took effect, 395 insurers offered individual market coverage. In 2016, that number dropped to 287, according to an analysis by Ed Haislmaier, a senior research fellow at the Heritage Foundation.

Haislmaier projects that next year there will be roughly 45 fewer insurers participating in the Obamacare exchanges, a 15 percent decline from the previous year. Haislmaier, who tracks the numbers daily, says the picture will become more clear when insurance arrangements are solidified around the end of October.

On the other hand, if Obamacare falls apart, that event could be used as an excuse to roll out a fully socialized healthcare system. This shouldn't come as a shock to anyone. Every time socialist policies fail, their socialist engineers double down, and claim that the real problem with their policy, was that it wasn't socialist enough.
By competing between quality and price, this system is assuring that most Americans will have to sacrifice one for the other, and end up sacrificing on all ends – perhaps when they need it most, between life and death.
Read more:
"Completely Unsustainable": Obamacare Destroys Middle Class, Rising As Much as 67%. Just in 2017.
Not Wealthy Enough To Meet Skyrocketing Rates, "Middle Class Is Being Crushed By Obamacare"
Obamacare Crumbling Before Our Very Eyes: "Excuse For Fully Socialized Healthcare"