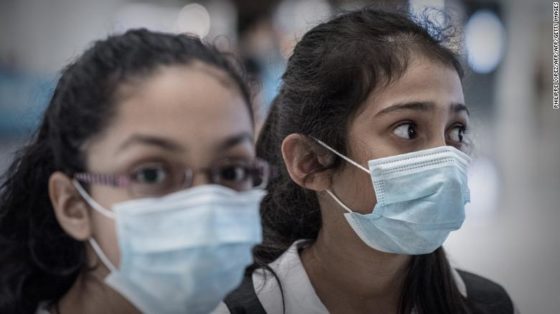 The World Health Organization says that even those who are fully "vaccinated" with the experimental gene therapy, should continue to wear face masks so they won't catch or transmit COVID-19. Isn't that what the "vaccine" is for?
The WHO urged fully vaccinated people to continue to wear masks and practice other Covid-19 pandemic safety measures as the "highly contagious delta variant" spreads rapidly across the globe, according to a report by CNBC. The ruling class and its mainstream media puppets are stopping at nothing to keep this ridiculous hoax alive.
"Vaccinated" Israelis May Need To Quarantine Because of the "Delta Variant"
Fauci: Vaccinated People Can't Dine Indoors Or Go To The Movies Still
"People cannot feel safe just because they had the two doses. They still need to protect themselves," WHO official Dr. Mariangela Simao told reporters. Does that mean that the "vaccine" is not effective? Because they certainly want people to take it.  If they aren't "safe" after two doses, what's the point of injecting this toxic substance into themselves? My guess is obedience. They want to see just how many will willingly obey without being forced to do so. And that can open up a whole new can of more sinister worms.
"Vaccine alone won't stop community transmission," Simao added. "People need to continue to use masks consistently, be in ventilated spaces, hand hygiene … the physical distance, avoid crowding. This still continues to be extremely important, even if you're vaccinated when you have a community transmission ongoing." –CNBC
If the "vaccine" won't stop transmission, what does it do then? Isn't that the definition of a "vaccine?" Oh that's right, they are all but admitting it's not a "vaccine" as we have stated since the beginning of this year:
COVID-19 mRNA Shots Are Legally Not Vaccines
WHO officials said they are asking fully vaccinated people to continue to "play it safe" because a large portion of the world remains unvaccinated and highly contagious variants, like delta, are spreading in many countries, spurring outbreaks, according to a report by CNBC.  But the rulers and the mainstream media have told us that the vaccine is highly effective against variants, so if it works, what's the problem?
MSM: "Delta Variant" Will "Surge" Among The Unvaccinated in the Fall
Not enough people have willingly taken the shot which is a piece of their overall agenda, and it looks like it is a pretty big piece. They told us when they will end the hoax:
Ruling Class: The Scamdemic Won't End Until The WHOLE WORLD Is Vaccinated
"You have to get vaccinated in order to be protected from Covid-19, the delta variant and any other variant that might come down the road," White House coronavirus response coordinator Jeffrey Zients said Thursday. –CNBC
So why then do the "fully vaccinated" need face masks if the "vaccine" protects against the "delta" and other variants?