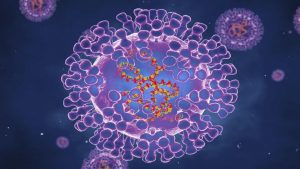 The World Health Organization says the monkeypox outbreak can be contained. "It's not something we've seen over the last few years," said Sylvie Briand, director of the WHO's epidemic and pandemic preparedness and prevention department Tuesday.
According to Briand, the disease is "still containable" and countries can stop transmission by raising awareness and teaching people to recognize the symptoms.
The illness itself begins like many acute viral diseases — with high fever, muscle pain and swollen lymph nodes. Those symptoms can be followed by a skin rash often starting in the face before spreading elsewhere and sometimes growing into fluid-containing pustules that form a scab. The illness usually lasts two to four weeks. -Bloomberg
According to the latest data reported by BNO, There have been 178 confirmed cases and 90 suspected cases across 19 nations.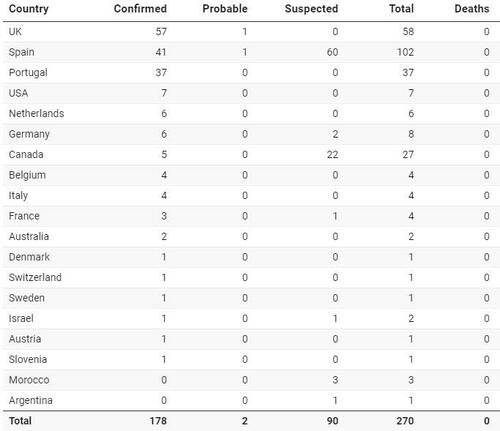 To address the situation, dozens of Jynneos vaccine are being released in the United States, according to the Centers for Disease Control (CDC). The ruling class's solution always revolves around injecting the public with more substances and propping up big pharma companies already proven to be corrupt.
Monkeypox is less contagious than smallpox and has milder symptoms. Both viruses belong to the same genus, Orthopoxvirus, which includes the vaccina virus, and the cowpox virus.
"There's one pandemic we're still in the middle of, and another emerging zoonosis that once again breached the species barrier is now transmitting in multiple countries," said Mike Ryan, head of the WHO's health emergencies program. "It's a containable event nonetheless."
And just how, exactly, do these "experts" and rulers think they can contain a monkeypox outbreak? By getting people injected of course! And this time, the vaccines are already ready to go!
"Right now we are hoping to maximize vaccine distribution to those that we know would benefit from it," McQuiston said. "So those are people who've had contact with known monkeypox patients, health care workers, very close personal contacts, and those in particular who might be at high risk for severe disease."
Anyone still paying attention knows this about these shots. What's in them is anyone's guess, but based on the propaganda that's already begun, it can't be good and it may be even worse than we anticipated.
Ruling Class: The Scamdemic Won't End Until The WHOLE WORLD Is Vaccinated