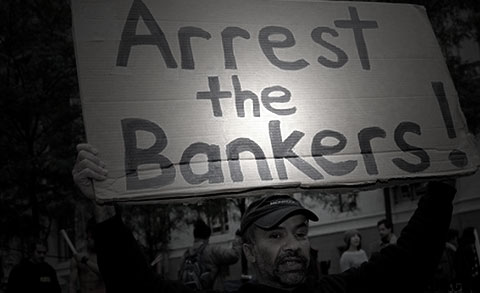 Is everyone focused on the right enemy?
At the heart of every truly wicked and dark corner of the system's activities is the central bank, and a scheme for domination.
It's probably why everyone always advises 'follow the money.'
While the Trump Administration is cracking down on immigration, and scoring big populist points for being tough on foreign criminals and undocumented families, he holds in his administration a who's who of Wall Street's banking elite, the very leaders of the mega-banks that caused the 2008 economic crisis, and who continue to drag the economy dangerously close to repeat disaster as the atmosphere of predatory financial dealings continues…
A lot of Americans would cheer on putting some of those guys on trial, those most responsible for rigging the economy and looting from the American people.
Instead, they remain at the helm of the ship.
Perhaps instead, they should take a lesson from Spain – and Iceland before it – by charging elite bankers for their roles in illegal banking.
via Business Live:
Former International Monetary Fund (IMF) chief Rodrigo Rato was handed a jail sentence of four years and six months on Thursday for misusing funds when he was the boss of two Spanish banks.

… he had been found guilty of embezzlement when he headed up Caja Madrid and Bankia, at a time when both groups were having difficulties.

The case prompted outrage in Spain, where it was uncovered at the height of a severe economic crisis that left many people struggling financially — made all the worse because Bankia later had to be nationalised and injected with more than €22bn in public funds.

[…]

He was on trial with 64 other former executives and board members at both banks accused of misusing €12m between 2003 and 2012 — sometimes splashing out at the height of Spain's economic crisis.

[…]

Rato will not necessarily go directly to jail if he appeals against the ruling, just like the Spanish king's brother-in-law Inaki Urdangarin who has been left free without posting bail after his sentence of six years for syphoning off millions of euros.

Urdangarin's temporary reprieve, which was also announced on Thursday, made waves in Spain where people have criticised what is perceived as the impunity of the elite.
While many of these elite will indeed squirm away with special deals, and provisions for probation and early release, it still sends the right signal.
The U.S. economy should not be fair game for constant manipulation – where our own downfall is engineered by carefully managed, and swiftly popped, bubbles.
Not one prominent banker has been charged or convicted for their role in the 2008 crisis – and that's with former Goldman Sachs executive Hank Paulson demanding a bailout from Congress through the use of threats and heavy arm-twisting.
Read more:
Jail the Banksters? Bernanke Now Claims "Wall Street Execs Should've Been Held Accountable"
Goldman Pays Fine For Causing 2008 Crisis As "The Rest of the World Faced Financial Armageddon"
"Too Big To Fail Banks" Caught Creating Fake Accounts… The Dam Of Fraud Is About to Spill Open
The Federal Reserve Has Unleashed a "Virus Of Radical Monetary Policy"… and There's No Going Back
Fed Vice Chairman Warns: Your Bank May Seize Your Money to Recapitalize Itself