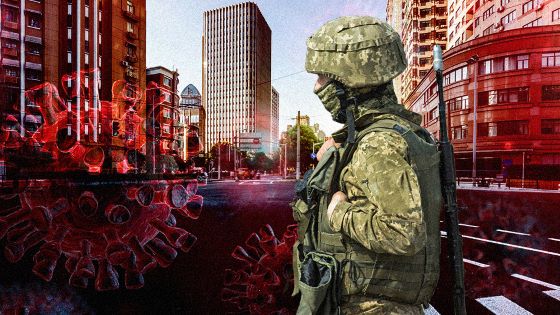 "Racks" of rifles have shown up at the Capitol! Americans are facing the possibility of the suspension of all of our God-given basic human rights that no other human is supposed to be able to take away.
It's happening, and it's happening fast.  Those on the right are now calling for the elimination of freedom, in order to give people freedom. Welcome to 2021. You can't make this stuff up!
There are people out there who actually want the military to take over the county, suspend all basic fundamental human rights, just to get their preferred puppet on the throne. What happened to the land of the free? What happened to questioning authority? What happened to true freedom?
According to a report by ZeroHedge, last week, the Associated Press, citing the Secretary of the Army, said National Guard troops in the Washington Metropolitan Area, especially around the Capitol complex, could carry assault rifles and pistols though the decision was under review.  Army Secretary Ryan McCarthy told The AP Friday that the military could let guardsmen carry M-4 rifles or 9 mm Berettas in a few days.
As we come to find out, on Wednesday morning, CNN's Josh Replogle reports that "racks upon racks of rifles and pistols" were unloaded from military vehicles and distributed to troops. What about the right to life, liberty, and the pursuit of happiness?
@mkraju Racks upon racks of rifles and pistols. National guard gearing up at the Capitol. pic.twitter.com/EzRriokncu

— Josh Replogle CNN (@Joshrepp) January 13, 2021
This means that the military has given the orders to arm guardsmen ahead of what could be chaos during President-elect Joe Biden's inauguration on January 20.

We noted this morning that the FBI is racing to track down hardcore insurrectionists that could be preparing for a fight next week. –ZeroHedge
You cannot give a right to someone you don't have. If you don't have the right to institute martial law and suspend other's rights, you don't have the right to give that right to Donald Trump.  Wake up, people! This is ridiculous and the darkness is winning. If you are calling for martial law so you can get the correct puppet to rule over everyone else, you have already lost. It's immoral and there's no gray area.
If anyone advocates the removal of ANY yet alone all of your basic rights, they are not in support of freedom in any way.
Stop calling for the enslavement of humanity because a rigged election was rigged against your preferred master. What we all need is to grow past the "need" for rulers and masters. Wake up and face the facts: elections are selections. Taxation is theft. They don't care about you. As we've said before, we actually don't need them. They need us and they know it. The longer they can keep you dependent on the system, the better for them.
David Icke To LEOs & Military: "Look Your Children In The Eye" & Tell Them YOU Enforced Tyranny
After Brainwashing People For Decades, MSM and Governments Are Losing Control of People
It's time to do business outside this Matrix and outside this system of control and oppression set up to keep us in a constant state of hatred and division. As we've said before, stay out of all of the chaos. Do good things, help your neighbors, and make sure you read between the lines.
They want you to resort to violence so they can justify any measures to stop you. Don't fall for it. Rise above and stay peaceful.
House Advanced Impeachment Bill Asking Pence to Invoke 25th Amendment